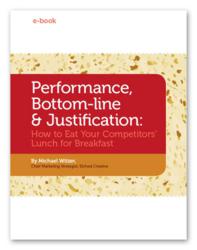 "This is perhaps the finest and most informative literature I've ever read. This eBook changed my life."

-Michael Witzer, the author of the eBook.
New York, NY (PRWEB) April 01, 2012
…Did anyone else just get hungry for PB&J?
April Fools Day is here, and Etched Creative believes the strong community of social networkers, internet marketers, and SEM gurus out there deserve as good a laugh as anyone. That's why you and your readers should check out the first ever parodied instructional eBook called "Performance, Bottom-line & Justification: How To Eat Your Competitor's Lunch for Breakfast."
This tongue-in-cheek manual takes everything familiar about the promotional how-to eBooks and turns it on its head. What starts as a serious paper on new media marketing strategy abruptly turns into an ambiguously metaphoric step-by-step breakdown of the peanut butter and jelly sandwich—and how it relates to social media strategy.
April fools day falls on a Sunday this year, but as luck would have it, the very next day, Monday April 2nd is National Peanut Butter and Jelly Day (we could not make this up if we tried: http://bit.ly/GZrqiy).
Check out http://www.etched.us/pbnj/ for a good laugh... no strings attached!
— ETCHED is a twenty one year young multidisciplinary agency blending design & marketing expertise to produce a wide range of projects that sell for our clients including package design & branding, marketing & PR, web development and photography.