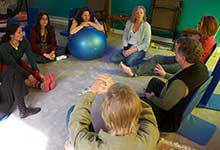 Boulder, CO (PRWEB) April 04, 2012
MATRIXWORKS™ presents Working with Groups as Living Systems: A Weeklong Workshop on unleashing Group Genius in your teams or group - with Mukara Meredith, MSW.
American businesses and organizations have been under threat from global markets, harsh competition from Asia, and slowing world economy. While most organizations have access to similar resources, their success will be based on leveraging the potential and creativity of their team.
MATRIXWORKS™ is revolutionary process that utilizes principles of New Science, Whole Systems Thinking, Spirituality and Contemporary Psychology. It is also based on the most recent neuroscience information on Empathy, Enactment and Emergence and has been successfully implemented in leading Fortunate 500 companies (including Mattel, Procter and Gamble, Hershey, GE, GAP, Old Navy and Banana Republic) in America and South America, as well as many non-profit organizations, both large and small.
Thus, this unique and unusual model of Connection, Chaos and Consciousness is applicable for corporations, emerging businesses, non-profit, and community groups and individuals seeking the direct experience of becoming a team and the team becoming a Living System that is capable of accomplishment far beyond individual capacity.
Mukara Meridith, founder of MATRIXWORKS™ and International Organizational Expert, will give participants an increased ability to successfully meet 21st Century challenges with greater trust, truth and transparency. This weeklong experience will leave members empowered to express Group Genius Acceleration in both their work and their world.
Workshop: Wednesday, April 25 through Tuesday, May 1.
Tuition Cost: $1200 (does not including housing and food) Some financial assistance is available.
For more information call 303-819-5289 or email mukara.meredith(at)gmail(dot)com
Mukara Meredith, MSW, certified Hakomi Therapist and Trainer with 30 yrs experience working with Groups, Teams and Organizations such as Mattel, Procter and Gamble, Hershey, GE, GAP, Old Navy and Banana Republic. A practicing Buddhist, she is devoted to the practical application of World Wisdom Traditions in everyday life.
"My daily clinic leadership is always so enhanced by the clarity and confidence I gain in these trainings. I stay in my work because I love the challenge of becoming a more conscious and compassionate leader and MATRIXWORKS™ joyfully moves me in that direction."
—Amy Alper, PA, Clinic Medical Director, Boulder, CO. March 2010
"The MATRIXWORKS™ Advanced Class, Cultivating Group Genius, did what I hope all training will do - it shifted my perspective. Leadership is, first and foremost, an inside job, and not so much techniques to be applied to a group. I value this insight, and further opening I experienced in this group."
—L.E., Atlanta Ga. Somatic Educator, Practitioner and Organizational Leader
"MATRIXWORKS™ is the best Leadership Training I have ever taken! It uniquely and pointedly strengthens the basic goodness of each participant, so that leadership skills rest in trustworthy relational ground. From this place of trust, amazing work seems normal and natural."
—K.P., Clinical Supervisor, Boulder, Co. March 2010
"Simply put, this MATRIXWORKS™ training has changed my life and how I do my work. Colleagues ask me what I have been doing."
—Liz Stuart, Teacher for Guild for Structural Integration