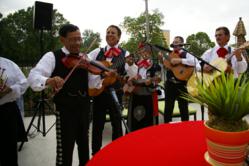 Shreveport-Bossier, LA (PRWEB) April 02, 2012
The 15th annual Cinco de Mayo Fiesta will be held in downtown Shreveport's Festival Plaza, located at 101 Crockett Street, 9 a.m. to midnight on Saturday, May 5. The festival provides an opportunity for the public to enjoy food, music, contests and more, all of which reflect the traditions and culture of Shreveport-Bossier's rapidly-growing Hispanic community.
Attendees will enjoy activities including Chihuahua dog races, an El Grito contest, magic shows, jalapeno pepper eating contests, a health fair featuring Zumba competitions, live music and dance from local and touring performers, and much more. Hispanic students will also be recognized during a scholarship presentation ceremony. New this year, Cinco de Mayo Fiesta will include the premier of Spring Fest 2012, a car, truck and bike show hosted by DreamWerkz Car Club of Louisiana.
"Our Cinco de Mayo Fiesta exists as the main fundraising event for the League of United Latin American Citizens' scholarship fund," said Cinco de Mayo, Inc. President Armando Garza. "To date we have awarded nearly $70,000 in financial aid to outstanding local Hispanic youth seeking higher education."
The date of May 5, "Cinco de Mayo," commemorates the victory of the outnumbered Mexican Army against the invading forces of the French Army in the Battle of Puebla (1862). Garza added, "In the same spirit of beating the odds, Cinco de Mayo Fiesta aims to secure funds to help local Hispanic students fight the education battle – to make their dreams a reality through scholarship assistance that helps them afford today's college tuitions."
In order to accomplish this mission, Cinco de Mayo, Inc. has also supported a new program called La Cima (The Summit), which is a bilingual leadership program providing Hispanic students with the skills and tools necessary to become leaders. This year, United Way has partnered with La Cima to make this dream a reality.
"Come prepared for a fun-filled day with traditional Mariachis and, of course, the mouth-watering food that sets the Cinco de Mayo Fiesta apart from other festivals in the area," said Cinco de Mayo Fiesta Chairman Willie Ortiz.
The 15th annual Cinco de Mayo Fiesta is sponsored by Black Hawk Concrete Construction, The Radio Group, Vita Latina Magazine, the City of Shreveport, SPAR, Shreveport-Bossier Convention and Tourist Bureau, Chevyland, Trejo's Mexican Restaurant, Eagle Distributing, Paragon Press, Glazers Distributing, Forest Park, DiamondJacks Casino and DreamWerks Car Club.
For more information, vendor or sponsor opportunities, please visit http://www.lousianalulac.org, email info (at) louisianalulac (dot) org or contact Guillermo "Willie" Ortiz at (318) 734-7062.