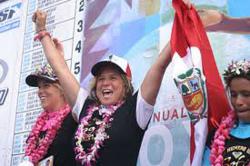 "This is one of our most exciting and action-packed auctions. We are extremely excited to offer this once in a lifetime experience while benefiting The Global Fund for Woman, a truly amazing cause. " - says LastCLCK CEO Yao Huang
New York, NY (PRWEB) April 01, 2012
LastCLCK (http://www.lastCLCK.com), the charity auction website, announced today its upcoming auction that takes place April 15, 2012. The auction is an all expense paid trip to Costa Rica with amazing perks. Unlike a simple vacation to Costa Rica, bidders will have a chance to meet three professional woman surfers. Amongst the woman surfers is world titleholder Sofia Mulanovich. On top of the trip to Costa Rica and a chance to meet Sofia Mulanovich the potential winners will also get a chance for a walk on part in the upcoming surf movie - 3 Killas y un Kiwi by filmmaker Marina Zawisza.
"This is one of our most exciting and action-packed auctions. We are extremely excited to offer this once in a lifetime experience while benefiting The Global Fund for Woman, a truly amazing cause," says LastCLCK CEO Yao Huang.
This LastCLCK charity auction is sponsored by Roxy and is benefiting the charity Global Fund for Woman (http://www.globalfundforwomen.org/). The Global Fund for Women is a publicly supported, nonprofit grant making foundation that advances women's human rights by funding women-led organizations worldwide. They provide general operating support grants to organizations working at the local, regional and national levels to enable women and girls to reach their potential and live free of discrimination and violence.
LastCLCK would like to remind anyone interested in the Costa Rica charity auction, to save the April 15th, 2012 date to your calendar. According to LastCLCK, this auction is going to have a very large audience so it is highly recommended you reserve your right to bid by registering at http://www.lastCLCK.com.
ABOUT LastCLCK
LastCLCK is an auction site that offers once in a lifetime experiences with proceeds benefiting various non-profit charities. Their aim is to give these nonprofit partners a big boost to their efforts while giving members the experience of a lifetime. For more information on LastCLCK visit http://www.lastclck.com. Press inquires are encouraged to email press(at)lastclck(dot)com. Nonprofits can contact LastCLCK by emailing cause(at)lastclck(dot)com. For partnerships and business inquires please email business(at)lastclck(dot)com.