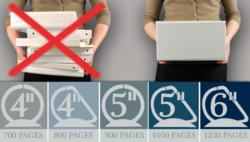 The demand for large ring binders is growing rapidly and Samsill is happy to offer products that meet the consumer's organizational needs
Fort Worth, TX (PRWEB) April 02, 2012
Fort Worth, Texas, March 30, 2012 — Samsill, the world's leader in large capacity binders, is excited to launch the first 5" round ring binders. The new 5" round ring holds 900 pages and is now available in the Antimicrobial and Biodegradable series.
Also first to market, the Titan 6" binders easily hold over 1250 pages. The Titan 6" binders have hit the market in full force and the consumer response has been phenomenal. Samsill has now launched new 6" D-ring SKUs into active product. Marketing Director, Drew Bowers says, "The demand for large ring binders is growing rapidly and Samsill is happy to offer products that meet the consumer's organizational needs".
Samsill is the leader in large capacity binders creating more storage solutions through heavy-duty binders and is the only manufacture of binders that offers round ring binders from ½" to 5" and D-ring binders from 1" to 6".
These large capacity binders are featured in a variety of assortments that Samsill offers including Antimicrobial, Biodegradable, Non-Stick and DXL. Samsill is proud to create products that matter to you.
For more information on these products visit http://www.samsill.com