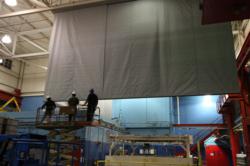 Northbrook, Illinois (PRWEB) April 01, 2012
As the testing laboratory of choice for U.S. Smoke & Fire and manufacturer BLE Smoke and Fire Curtain (BLE) since 2003, UL has become intimately familiar with our product range and capabilities and trusts their performance enough to protect their own facilities.
As BLE develops new capabilities and technologies, U.S. Smoke & Fire continues to liaise with UL for additional testing approvals. As of March 2012, UL tested and approved a UL 1784 "S" labeled multi-barrel assembly for smoke barriers that allows for uninterrupted lengths of ninety feet, far surpassing any comparable product on the market in terms of performance and design.
Along with the previously attained testing results to relevant sections of UL 10B & UL 10C with the UL864 standard for our control equipment, U.S. Smoke & Fire and BLE successfully achieved UL10D in April 2009. UL saw the need to create a comprehensive new standard that incorporates all the sections of relevancy to fire protective smoke curtains, and worked closely with U.S. Smoke & Fire and BLE to create the new UL10D certification in 2009.
BLE is currently the only company in the world that can offer fire protective smoke curtains fully listed, labeled and recognized to UL 10B, UL 10C, and UL 10D as well as UL 1784 for our smoke barrier products.
"Our success with UL is yet another demonstration of the unrivalled levels of quality which make U.S. Smoke & Fire and BLE systems the products of choice throughout the United States and worldwide," says Dr. Steven Sadeghian, CEO of U.S. Smoke & Fire.
About:
U.S. Smoke & Fire, A Division of CYSA Development is a globally licensed and value-added distributor of BLE Smoke and Fire Curtain, the global leader in smoke and fire curtain technologies.