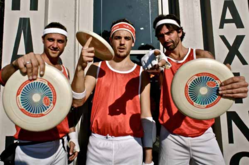 Teaneck, NJ (PRWEB) April 03, 2012
New indie label startup, OK!Good Records, recently announced the official release date for the debut self-titled album from the Australian power-pop trio, The Trip. The album will be available on iTunes, Amazon and at major retailers on Tuesday, April 10th. However, impatient fans don't have to wait for the official release date to hear the album. OK!Good Records has pre-released the album on their website (http://www.okgoodrecords.com), where it can be streamed for free and also purchased. The album's first single, "On the First Time," which won the Freshman Music Video Contest on MTVu last month, is also available on iTunes prior to the album release.
The Trip, best known for their hilarious Frisbee-throwing skills in their video for "On The First Time", are often compared to early Red Hot Chili Peppers, Maroon 5, and The Script but with a modern funk twist. However, their sound may be better described as danceable electronic pop, with an 80s flair and rock attitude. These qualities are evident in such songs as "Still Water," "On The First Time," and "Put Your Love On Me," which are high-energy songs driven by huge, synth-infused hooks and hard-hitting drum grooves, complemented by catchy vocals that draw from elements of rap and modern pop. Slower songs like "Sweet Surrender," a sexy R&B influenced ballad, and "Against the Wall," a sultry, 80s pop-influenced tune with a modern rock twist, certainly show the band's diverse influences.
Having recently relocated to Los Angeles from Australia, The Trip have played shows at NYC 's 2011 CMJ Music Marathon, various clubs in LA, and have made appearances at the 2012 SXSW Music Festival in Austin, TX. They plan on touring more extensively in support of the new album.
The Trip – "The Trip" Track Listing:
1. Still Water
2. Way Home
3. Fifty Miles
4. On the First Time
5. Put Your Love on Me
6. High as the Sun
7. Find a Way
8. Sweet Surrender
9. Call You
10. Against the Wall
11. Give us A Break
About OK!Good Records: OK!Good Records is an independent record label based in the New York City area. Founded in 2011 as an outlet for unconventional, evocative, and genre-defying music, OK!Good's mission is to pluck talented artists from all corners of the global landscape and present them to the American public.