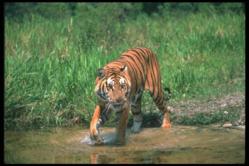 "These days... people may see five, ten or more tigers, and often with close-up views," says Dr. Will Weber.
Ann Arbor, MI (PRWEB) April 01, 2012
Travelers seeking the best places to see Tigers in India have reason to be optimistic this year. Wildlife officials and local naturalists report most tigresses in the great reserves of central India are either pregnant or have cubs. 2011 was also a good year for tiger survival and reproduction.
JOURNEYS INTERNATIONAL of Ann Arbor, Michigan, has been offering India Tiger safaris for more than a decade. Director Dr. Will Weber notes that when the program started most people caught at least a glimpse of a tiger, but maybe only once or twice. "These days in the course of a 10-day tiger safari people may see five, ten or more tigers, and often with close-up views", he notes. "This is partially due to increasing skill and knowledge of the guides, but there are more tigers."
In 2012 and 2013 JOURNEYS is planning new wildlife safaris specifically focusing on some of the famous and emerging sites for tigers and other wildlife of India. In November, JOURNEYS' "Rajasthan Royal Wildlife Safari" explores the famous Ranthambore National park and several lesser known parks and reserves in north central India. In February 2013, JOURNEYS'"Tigers of Assam and the Sunderbans" focuses on the vast Sunderbans delta of West Bengal, the Tadoba Tiger Reserve, and Kaziranga National park in Assam.
JOURNEYS also offers individual private arrangements to visit the central India reserves of Panna, Bandhavgarh, and Kanha, all of which are reporting increases in tiger populations this year. In addition, travelers will learn that other species of large mammals have been successfully reintroduced into preserves and parks where they had been eliminated. The Gaur, or Indian Bison, once again roams Bandhavgarh and the Asiatic Blackbuck, a kind of antelope, now thrives in Kanha National Park. There are plans to re-introduce the Asiatic Cheetah to Kuno Palpur National Park in Madhya Pradesh.
Few good and current guidebooks to finding Indian wildlife exist. The key to finding the rare birds and animals of India is traveling with an experienced naturalist. Unlike the big game of Kenya and Tanzania which has lost most fear of humans through decades of protection, Indian animals are still wary and unaccustomed to well-meaning tourists equipped with cameras rather than guns. Access to many of the parks is difficult and advance reservations or permission may be required.
"If you know where, how and when to look, you will certainly find pleasant surprises," says Avi Sakhrel, noted Indian birder, naturalist and wildlife guide who leads many JOURNEYS India wildlife tours. "The Indian conservation community is very pleased to see positive results of efforts to save our wildlife. Even some of the lesser known parks now offer regular big cat sightings."
Sakhrel notes that it is possible to see Tigers year round, but generally the best viewing conditions in most areas are in the dry season from November to April. He also notes that while there are new accommodations for tourists near some of the parks, increasing wildlife interest on the part of Indian and international travelers means reservations at the best-sited lodges often fill months in advance.
The total population of Bengal Tigers is probably still under 2,000. A nationwide census carried out in 2011 estimated a total of 1,706 up from 1,411 from the previous count in 2007. Using modern techniques like camera traps, tiger populations have been documented in some areas where they were only hypothetical inhabitants. Camera traps identified 14 Tigers in Manas National Park of Assam on the border of Assam. Conservationists had feared that insurgent activity a few years back had killed all of the tigers, but they have returned.
About JOURNEYS INTERNATIONAL
JOURNEYS INTERNATIONAL is the longest standing family-owned global ecotourism company in the US. JOURNEYS offers full-service exotic, guided cross-cultural explorations, nature safaris, treks and eco-tours in remote corners of Asia, Africa, the Americas and the Pacific. Founded by current directors Will and Joan Weber in 1978, JOURNEYS boasts an extraordinary record of client and staff satisfaction and several industry awards. Follow Journeys on Twitter or Facebook.