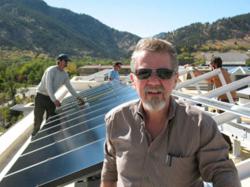 "It's a win-win for everyone," said Richard Polk, president and co-founder of Pedestrian Shops. "We are delighted to help CRC in its efforts to conserve resources in the community."
Boulder, Colorado (PRWEB) April 02, 2012
The Pedestrian Shops, a locally owned downtown Boulder business for more than 41 years, will celebrate its Earth Day Shoe Drive in collaboration with Boulder's Center for ReSource Conservation and Patagonia footwear.
For more than two decades Pedestrian's two annual shoe drives, commemorating Earth Day in the spring and Thanksgiving in the fall, have turned more than 35,000 pair of old shoes into a commitment to resource conservation.
Pedestrian's 47th Shoe Drive, April 9 to April 23, is no exception. Customers are urged to bring all kinds of used shoes to the Pedestrian Shops. Pedestrian will donate 5 percent of any purchase made by a shoe donor to the Center for ReSource Conservation (CRC), supporting conservation programs along the Front Range that focus on waste reduction and energy and water conservation.
In addition, Patagonia footwear will donate $10 to the CRC for every pair of Patagonia shoes purchased at the Pedestrian Shops or its web site comfortableshoes.com between April 9 and April 23.
During the drive a striking window display at the Pedestrian shops will be custom built by BOLD Doors, a CRC arts initiative using old doors that would otherwise be discarded, so that passers-by will experience Patagonia shoes like never before. Students from Casey Middle School in Boulder will assist in the production.
The donated shoes will help two locally based nonprofits:

Running and athletic shoes in good condition will go to less developed countries through One World Running, founded in 1986 by local runner and writer Mike Sandrock, and those in poor condition will be turned into turf for playgrounds.
Business and casual shoes will go to the Deacon's Closet at First Presbyterian Church, for people transitioning into the workforce and in need of assistance.
"It's a win-win for everyone," said Richard Polk, president and co-founder of Pedestrian Shops. "We are delighted to help CRC in its efforts to conserve resources in the community."
CRC also hosts its 10th Annual Earth Day 5K run/walk on Sunday, April 22, and will collect shoes at that event as well. Keith Frausto, CRC executive director, applauds the collaboration: "Kudos to Pedestrian Shops and Patagonia for collecting shoes and helping us celebrate Earth Day."
The Pedestrian Shops is a longtime "green" retailer, since 2008 using a 10 KW solar array to generate nearly half the energy needs of its downtown store at 1425 Pearl St. Also that year, Pedestrian inaugurated a "closed door" policy, helping keep its carbon footprint to a minimum by closing the doors when air conditioning or heat is on. And Pedestrian follows numerous other practices that Reduce, Reuse and Recycle. See http://www.comfortableshoes.com/blog for more information.
The Pedestrian Shops is a locally owned family business operating two Boulder,Colorado stores, as well as the website http://www.comfortableshoes.com.
Downtown Boulder Mall: 1425 Pearl St., Boulder
The Village: Facing Folsom Street between Arapahoe Avenue and Canyon Boulevard, Boulder