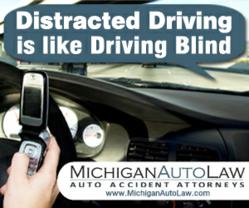 Common sense, personal responsibility, and educating drivers about the dangers of distracted driving are all major parts of the solution that will save lives.
Farmington Hills, MI (PRWEB) April 02, 2012
April is Distracted Driving Awareness Month, and the car accident lawyers at Michigan Auto Law want to spread the word that just one text or call could wreck it all. As part of Distracted Driving Awareness Month, the law firm will be releasing safety tips and advice to prevent crashes and deaths by distracted driving.
"Our car accident lawyers believe enforcement and common-sense safety laws, such as texting while driving bans, can help prevent distracted driving car accidents, and deaths," said Steven M. Gursten, head of Michigan Auto Law, a law firm that handles automobile accident cases. "But legislation is not the only solution. Common sense, personal responsibility and educating drivers about the dangers of distracted driving are all major parts of the solution that will save lives."
Gursten mentioned the tragic death of an Ann Arbor, Michigan mother of four who was killed April 27 in a car accident when she was texting while driving, according to the Washtenaw County Sherriff's Office.
Below are some startling distracted driving statistics:

In 2012, there have been an estimated 307,753 car accidents involving drivers using cell phones and texting (National Safety Council: Cell Phone Crash Estimate Model) .
In 2009, distracted driving claimed 5,474 lives and led to 448,000 injuries (National Highway Traffic Safety Administration (NHTSA)).
Drivers who use hand-held devices while driving are four times as likely to get into crashes serious enough to injure themselves or others. (NHTSA).
Younger, inexperienced drivers under 20 years old have the highest proportion of distraction-related fatal crashes (NHTSA).
Here are some safe driving tips to prevent distracted driving from Gursten:
Plan in advance – Eat, check your e-mail, make calls and texts, know your route and finish your grooming routine before you get in the car. That text can wait.
Stay focused – Limit interactions with your passengers, don't talk on the cell phone (even hands free), don't text and don't take notes or surf the Internet. Let a passenger control the radio or if you are alone, set your iPod to shuffle and don't touch it.
Pull over – If you must do any of the tasks mentioned above, pull over in a safe, well-lit area to talk on the phone, etc.
Make a commitment to yourself – Promise yourself that you will not text and drive and that you will avoid distracted driving.
Tell your teen drivers and your loved one not to text and drive – Spreading knowledge and awareness is another key to stopping this bad driving behavior before it becomes habit, especially for inexperienced teen drivers. Give them this list of safe driving tips and what to do at the scene of an auto accident.
"It's up to each and every one of us to make sure we put the cell phone down and pay attention to road. The risks are simply too high, as are the consequences," Gursten said.
Throughout Distracted Driving Awareness Month in April, keep a look out for many informative blogs about distracted driving on the Michigan Auto Lawyers Blog. They will cover everything from safe driving tips and current legislation, to some powerful accounts of distracted driving car accidents, Gursten noted.
"Talking about this subject and getting others to talk about it is a start to prevent more devastating losses," said Gursten, "especially among teen drivers, who are most at risk for distracted driving crashes."
About Steven M. Gursten:
Steven M. Gursten is a car accident lawyer and head of Michigan Auto Law. He is president of the Motor Vehicle Trial Lawyers Association and lectures to personal injury attorneys across the country.
About Michigan Auto Law:
Michigan Auto Law has 18 lawyers exclusively handling auto accident and No-Fault insurance litigation throughout the state. Michigan Auto Law has received the top-reported jury verdict for a car or truck accident victim in 2009, 2009, 2010 and 2011, according to published reports by Michigan Lawyers Weekly. The firm has offices in Farmington Hills, Sterling Heights, Detroit, Ann Arbor and Grand Rapids. For more information, call Michigan Auto Law at (800) 777-0028.
# # #