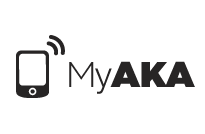 MyAKA believes that privacy is a right to all
Los Angeles, CA (PRWEB) April 02, 2012
MyAKA, the service which lets you signup for an anonymous second mobile number without the need for a second phone, has designed its service with broad appeal in mind. Without relying on the need for 3rd party apps or downloads, the privacy service works with both Smartphone's and feature Phones.
Nielsen Wire recently reported that for the first time ever Smartphone usage has equaled that of Feature Phone usage. While it appears certain that Smartphone usage and, in turn, the popularity of apps will continue to grow and surpass the Feature Phone, MyAKA believes that privacy is a right to all, not just those with a Smartphone and easy accessibility to apps. In addition, the company believes that a high percentage of Smartphone users are wary of installing apps on their phone due to the potential access to personal information.
"Smartphone usage is growing at an incredible rate but contrary to popular opinion, the majority of mobile phone users still own Feature Phones", stated John Skorick, Founder and CEO of MyAKA.com, LLC. "Our goal as a company is to provide privacy and security to all mobile phone users and with this goal in mind we have designed our services specifically to work without the need for apps or downloads".
While the company insists it will always place usability on all phone types as its top priority, it stated that it does recognize the popularity of apps and that it is nearing the completion of its own app and has worked with some of its clients to integrate its privacy services into their apps.
MyAKA is a privacy protection service which allows a consumer to signup for an anonymous second mobile number with a local area code. The service does not require a second phone, functions just as a regular mobile number and does not require any extra downloads, applications or Internet/Wi-Fi connectivity. MyAKA is not a forwarding service, but a two way system which protects the persons real number on incoming, as well as outgoing calls and text messages. The service also has a number of built in privacy features which are managed through the users MyAKA number via SMS messages.
These features include the ability to pause ones number – calls are forwarded to voicemail and text messages are stored to be delivered once the user wishes to resume activity – easy blocking of unwanted contacts and simple notification of whether a call from an unrecognized number is a MyAKA or regular contact.
MyAKA is a service built solely with the ideas of privacy in mind. MyAKA does not sell or release any information to 3rd Parties unless required to do so by law.
For more information on the company's Privacy Policies: http://www.myaka.com/privacy.html
About MyAKA.com, LLC
MyAKA.com, LLC is a Los Angeles, California based startup which provides personal privacy services through the use of mobile technology. The founders of MyAKA.com have over 14 years of experience in eCommerce and Internet Marketing, as well as more than twenty years of experience in enterprise level database and networking systems and telephony.