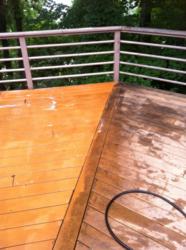 Chemical companies were focusing on the surface; we took a different approach.
Brewster, MA (PRWEB) April 04, 2012
Wash Safe Industries solves composite decking mold problem with a new unique "no scrub" spray on solution, and home owners are loving it. At the turn of the century, composite decking took the lumber industry by storm, every contractor was pushing this new decking and every home owner just had to have it. Promises of a deck that would last a lifetime with no maintenance excited everybody. No more staining, sanding, scraping, no water sealing, no splinters, warping or cracking. All of the troubles and upkeep with traditional wood decking were solved until the mold showed up and took over the entire decking surface.
In many cases, the mold gets so dark that it's impossible to tell the original color of the decking. Beautiful decks were now an eyesore, the composite decking manufactures customer service telephone lines lit up with angry customers, people pressure washed and scrubbed so hard to get at the mold that he color would come off or they would carve or dig right into the decking and still could not solve the problem. They tried every traditional cleaning agent and new specialized cleaners with few positive results.
According to Wash Safe's research the mold problem was within the decking not on the surface, hence the problems of scrubbing and pressure washing with no results. Armed with that information and overwhelmed by endless customer requests, Wash Safe set out to make a penetrating solution that when absorbed by the decking would seek out and remove stains caused by mold. Wash Safe's company president John Redihan claims, "Removing these stains from the inside out is the secret of our success." And he added, "Chemical companies were focusing on the surface; we took a different approach."
Composite decking is a very stable and long lasting building material it is a mixture of wood and plastic and should last for a very long time. The manufacturers never predicted this problem, thousands of lawsuits and unhappy customers have given the industry a black eye. The manufacturing process has improved recently to combat this problem but for the tens of thousands of home owners nationwide battling composite deck mold Wash Safe has come to their rescue.
Cathy West of Greer, South Carolina claims that finding Wash Safe Spray & Clean was one of the best things that ever happened to her. She said, "We are retired and we love to entertain but I was so embarrassed by the mold on my deck that I closed the drapes on the sliding glass door during the day and only allowed people on my deck at night. We didn't know what to do, I had tried every possible product that claimed to clean composite decking with no results. I found Spray & Clean advertised on the internet one night and decided to give it a shot, my deck is beautiful again and it was so easy to use, I'm Wash Safe's biggest fan." Home owners are once again pleased with their decking thanks to Wash Safe's Spray & Clean composite deck cleaner.
Wash Safe Industries manufactures eco-safe cleaning solutions for hard to clean to clean surfaces like composite decking. Home Owners and contractors interested in learning more about Wash Safe's products can visit http://www.Wash-Safe.com. For expert advice from a trained cleaning representative, call toll-free at 1-(888)-908-9274.
Follow us on Facebook and Twitter!
Sources:
http://www.Wash-Safe.com
John Redihan
President
Wash Safe Industries