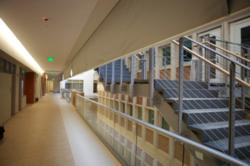 Chapel Hill, NC (PRWEB) April 01, 2012
The project was designed by Flad Architects out of Raleigh, North Carolina. U.S. Smoke & Fire first became involved in the project in 2009 when the project was in design development. Flad sought to reduce the amount of dedicated mechanical extraction required to control and retard the spread of smoke in the event of a fire.
U.S. Smoke & Fire was consulted by Rolf Jensen and Associates(RJA) in the design of the smoke curtains, which were installed on the third and fourth floors of the four-floor atrium along a long egressable walkway. The smoke curtains span one hundred and fifty feet on each floor, and add up to more than two thousand square feet.
Judd Ullom, Senior Project Manager, stated, "This was a five year project from Design Development to commissioning that involved coordination of Flad, BE&K [the general contractor], RJA and U.S. Smoke & Fire to successfully implement this essential life safety system."
About:
U.S. Smoke & Fire, A Division of CYSA Development, is a globally licensed and value-added distributor of BLE Smoke and Fire Curtain, the global leader in smoke and fire curtain technologies.