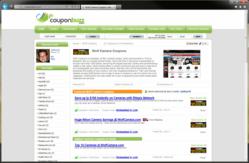 Offers like the Wolf Camera coupon for 20% off all scrapbooking materials are incredibly appealing to price-savvy consumers.
Houston, TX (PRWEB) April 01, 2012
Scrapbookers of the world can rejoice in an impressive Wolf Camera coupon featured today by CouponBuzz.com for 20% off all scrapbooking materials. The featured special offer applies to a plethora of scrapbooking essentials, including; scrapbooking paper and cardstock, die cutters and accessories, stickers, stamps, chalk, embossing materials, digital scrapbooking materials and much more! The sale also includes finished products like hard-backed memory albums and photo frames.
Wolf Camera is a subsidiary of Ritz Camera, acquired in 2001. Approaching 100 years of experience and excellence in the photographic industry, Ritz Camera has proven its ability to innovate and adjust to changing technology and consumer demands. For example, Ritz Camera was the first chain to offer 4x6 prints from 35mm film, in addition to the then-standard 3x5 prints. They also rapidly innovated to allow online uploading and ordering of prints, as well as partnered with YesVideo to offer same-day transfer to DVD of VHS, SVHS, MiniDV, Digital 8 and other various kinds of media.
Ritz Camera was also among the first to install the necessary equipment to allow customers in-store production of hard-back photo books, photo calendars and customer greeting cards. Today, all of their in-store services are also available via their website, WolfCamera.com, a comprehensive location for cameras, photo equipment, and photo services.
"At CouponBuzz we try and partner with merchants who consistently innovate to meet the changing demands of the retail world," said Justin Bowen, owner and co-founder of CouponBuzz.com. "Wolf Camera.com understands that offering online coupons and coupon codes is one of the best ways to attract internet commerce. Offers like the Wolf Camera coupon for 20% off all scrapbooking materials are incredibly appealing to price-savvy consumers."
The link to the 20% off scrapbooking materials offer at WolfCamera.com can be found in the new section at CouponBuzz.com dedicated to special offers and coupons from Wolf Camera. Explanatory text about the limited time offer and a link to the product pages is located here http://couponbuzz.com/wolf-camera-coupons.html