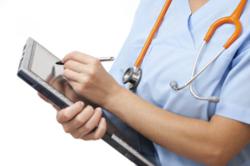 There was not an (EHR) issue that we felt we could not approach DataTrade with. - Natalie Weaver, First State Orthopaedics Team Leader
Wilmington, DE (PRWEB) April 02, 2012
A year's worth of assimilation, training and hard work has First State Orthopaedics (FSO) on the way to meeting the standards of the Meaningful Use Incentive program after a DataTrade Solutions software re-design. In 2009 FSO hired Mike Fiore, of M.T. Fiore & Associates, to overhaul the IT infrastructure in anticipation of the data surge that would come from the increased utilization of their EHR (Electronic Health Records) application.
Fiore had the internal pieces in place and ready for DataTrade Solutions to shape the program to FSO's needs with a custom template suite and streamlined utilization of the application's Knowledge Base Model (KBM). DataTrade trained FSO staff members including team leader Natalie Weaver, who then trained the FSO staff on the program re-design, and rolled out their nearly two-dozen physicians and physician assistants, two at a time, until the complete staff was trained and live. "I have been very pleased with the efforts of DataTrade Solutions. They have been a tremendous resource and allowed us to operate with full confidence in their expertise," said Fiore
While it is easily stated that this new program was installed, the staff was trained, and they went live, with technology there seems to always be few hitches and issues that can make the transition a time of stress and confusion. That is exactly why DataTrade Solutions stakes the claim, "It's our problem, not yours." Training, installation, and system audits that put businesses on their way to incentive compliance are at the core of the DataTrade's abilities, but their support after the job is done is what makes them a valuable partner in the EHR transition. "There was not an (EHR) issue that we felt we could not approach DataTrade with," said Weaver.
Eligible professionals who demonstrate meaningful use in an EHR application can earn up to $44,000 through the government's EHR incentive program, according to the Centers for Medicare and Medicaid Services website. This meaningful use consists of many criteria such as using an e-prescribing module and using EHR programs to promote the electronic exchange of health care information to improve the overall quality of health care. Coordinated patient care, practice work flow, and beneficial ecological implications through technological advancements are forging the path to the future of health care. "DataTrade was able to contribute on all matters related to EHR." said FSO Practice Administrator David Blaeuer. The health care professionals at First State Orthopaedics are on that path with DataTrade Solutions at their side.
About DataTrade Solutions, Inc
Located in Collegeville, PA, DataTrade Solutions is a provider of full life-cycle EHR solutions currently supporting over 400 physicians through assessment, customization, implementation and support of IT systems.
For more information on DataTrade Solutions, visit http://www.datatradesolutions.com or contact Adam Rantz, Project Coordinator, at arantz(at)datatradesolutions(dot)com