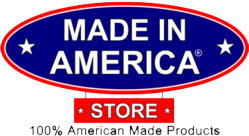 We all need to get involved and do our part to help the economy. Buying American is the real stimulus package
Elma, New York (PRWEB) April 03, 2012
The Made In America Store is known for selling 100% American made products and with emphasis in the media during the presidential race and concerns with the economy, American made is an idea on everyone's mind. Now the Made in America Store, on its two year anniversary of being open, is bringing the store closer to those who live near Rochester, NY.
Mark Andol, owner of the Made In America Store, explains that just being aware of where your goods are manufactured helps understand how many products are made overseas.
"If everything is being manufactured overseas, where do you think all our US money goes?" Asks Mark Andol, "People have grown China into the manufacturing nation they are today without even thinking about it. If we spend that money on American made goods and products, the cash stays here, helping companies grow and create jobs in America, it's that simple."
Andol's idea has made it easier for everyone to buy 100% American Made Products, whether it be at his brick and mortar locations or online at http://www.MadeInAmericaStore.com. The store carries over 3500 products from just under 300 Vendors, and is stimulating the economy with every sale. Andol says he'd like to help any store owner set up 100% American Made End Displays within their own stores to promote the Buy American Movement that has swept the country.
In two years, the store has completed four expansions at their first location in Elma, New York. Over 3,500 products fill the shelves and just under 300 different vendors help supply those shelves.
"We all need to get involved and do our part to help the economy. Buying American is the real stimulus package" says Andol.
The General Welding and Fabricating Location is in Henrietta, NY near Rochester, NY.
The Made In America Store is located at 900 Maple Road in Elma, New York and is committed to selling 100% American manufactured products. You can visit http://www.MadeInAmericaStore.com for more information or shop our catalog of over 290 vendors that are devoted to producing USA made products. All US military personnel both active duty and retired receive a discount every day. Consumers can also keep up to date news articles, events, photos and contests with Facebook, Twitter, Google+, Pinterest and Tumblr!