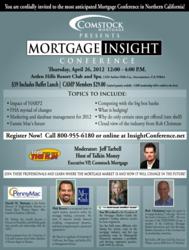 The most anticipated conference in Northern California!

-Jeff Tarbell, VP of Comstock Mortgage and Host of Talkin' Money.
Sacramento, CA (PRWEB) April 02, 2012
The Mortgage Insight conference will be held on Thursday, April 26th in Sacramento. Rob Chrisman, highly respected industry leader and author of Daily Mortgage News and Commentary will be part of a panel including David Battany, former Director of Single family business at Fannie Mae and now part of PennyMac, Sue Woodard, President of Mortgage Market Guide and Phil Rasori, capital markets director of MCT Trading. Details can be found at http://www.insightconference.net.
These dynamic and knowledgeable speakers will lead discussion on hot topics, including HARP 2.0, FHA changes, marketing and database management, Fannie Mae, Hedging, and much more. A rare opportunity to see and hear these top industry leaders. Register now, space is limited.
For more information about Comstock Mortgage, visit http://www.comstockmortgage.com