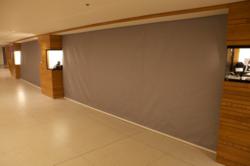 Washington, DC (PRWEB) April 01, 2012
Architecture firm Quinn Evans specified the curtains at the Kennedy Center as a means to separate the retail area from the egress concourse in the event of a fire, thus reducing dependency on higher-maintenance mechanical smoke extraction systems that require power to operate.
U.S. Smoke & Fire employs only gravity-fail-safe vertically deploying fire protective smoke curtains that do not require power to operate. U.S. Smoke & Fire believes life safety systems should not depend on main or even back-up power for operation, especially in high-profile, high-occupancy buildings.
U.S. Smoke & Fire is honored to be trusted with an installation at this venerable institution, for which Forrester Construction Company acted as the general contractor.
About:
U.S. Smoke & Fire, A Division of CYSA Development, is a globally licensed and value-added distributor of BLE Smoke and Fire Curtain, the global leader in smoke and fire curtain technologies.