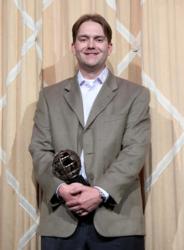 Las Vegas, NV (PRWEB) April 02, 2012
AFCOM, the world's leading data center association that recently wrapped up the biannual Data Center World, today announced Cameron Wynne, vice president of operations at Data Foundry, as the recipient of the newly branded 2012 Leonard Eckhaus Data Center Manager of the Year Award. Wynne was recognized from a competitive pool of finalists, which included Bill Danelutti, senior manager, IT operations at Iron Mountain, Inc.; Donna Manley, senior IT director, computer operations at the University of Pennsylvania.
The Leonard Eckhaus Data Center Manager of the Year Award, which was recently renamed this year to honor AFCOM Founder and active industry thought leader Leonard Eckhaus, seeks to recognize IT managers whose qualities embody innovation, organization, versatility and ambition. The winner is an effective leader who runs a highly efficient data center, works well under pressure, possesses strong communication skills and keeps up-to-date on the latest, most valuable technologies in order to maintain his or her company's edge.
"At a time when we see so many data centers at or over capacity—and still needing to do more—Wynne's ability to turn an unworkable situation into a highly productive operations center is truly noteworthy," said Jill Yaoz, CEO, AFCOM. "Wynne is the perfect beneficiary of the year's award because beyond his incredible work, he has also been so willing to share his knowledge to help others in a similar situation—something that is the pride of Data Center World and my father, for whom this award is named."
After Data Foundry acquired a four-year old data center in Austin, Texas, Wynne was challenged with economically improving efficiency in the data center's mechanical system. This data center was built using a cookie-cutter design more suited for Northern climates. Wynne oversaw Data Foundry's team of engineers which were able to dramatically improve the data center's performance without a complete overhaul of the mechanical infrastructure. Most recently, Wynne played an instrumental role in the design, construction and operation of Data Foundry's flagship 250,000 square foot data center, Texas 1. Texas 1 is the first purpose-built, carrier-neutral data center in the Central Texas region.
An awards gala was held in Wynne's honor during the Spring 2012 Data Center World. As the premier event for data center managers and other IT professionals, Data Center World continued to demonstrate the significance placed on the critical business element, as both attendee numbers grew 14 percent year-over-year.
The Spring Data Center World 2012 was held March 18-22 at the Mirage Hotel in Las Vegas, Nevada. Highlights of this five-day conference included:

A keynote address from Vivek Kundra, the first CIO for the United States' Government.
Educational tracks, on topics including General Data Center Management, Disaster Recovery/Security, Cloud Computing, Data Center Builds/Expansion and Design, General Facilities Management, Power and Cooling, Product Information Sessions.
Virtual Data Center Tours of Brocade's new Silicon Valley facility and University of Nevada, Las Vegas' completed project that was six years in the making.
Networking and special events to find potential collaborators and vendor resources, get help to overcome your hurdles and technology problems, and build an active and innovative idea network.
Results of "The State of the Data Center," a pulse check inside today's data centers from AFCOM's Data Center Institute.
The next Data Center World conference will be held this fall, September 28-October 3, 2012, in Nashville, Tenn. To view the evolving schedule of events and speakers, please visit: http://www.datacenterworld.com
About Data Center World Conference
Data Center World, operated by AFCOM, the world's leading 4,500-member data center association, is the industry's premier networking and educational conference, and occurs bi-annually. Thousands of data center and facility management professionals, from many of the largest corporations across all industries, government organizations, and academic institutions in the world attend Data Center World to share, discuss and learn about the latest data center trends, technologies and best practices, as well as products and services by some of the world's leading data center technology and service providers. Tradeshow Week recognizes Data Center World as one of the 50 fastest growing shows in the U.S. (2006, 2007 and 2008). For more information, visit http://www.datacenterworld.com.
About AFCOM:
AFCOM (http://www.afcom.com) is the leading association supporting the educational and professional development needs of data center professionals around the globe. Established in 1980, AFCOM currently boasts more than 4,500 member data centers and 40 chapters worldwide, and provides data center professionals with unique networking opportunities and educational forums and resources through its bi-annual Data Center World Conferences, published magazines, regional chapters, research and hotline services, and industry alliances.