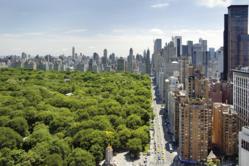 New York, New York (PRWEB) April 02, 2012
Mandarin Oriental, New York is delighted to announce the launch of its Edible Schoolyard Picnics with celebrated chef, author and "Edible Schoolyard" founder Alice Waters.
Beginning this spring through October 2012, hotel guests can choose between two picnics created exclusively for Mandarin Oriental, New York. A portion of the proceeds from every picnic sold will be donated to support Edible Schoolyard NYC, an affiliate program of the original Edible Schoolyard in Berkeley, California. Edible Schoolyard was founded by Chef Waters more than 16 years ago pioneering the notion that the best place to teach children about the connection between food, health and the environment is in schools. Edible Schoolyard NYC is the first north-eastern affiliate of the program and is committed to bringing Alice Waters' vision to New York City's public school system – the largest in the nation.
Chef Waters' Edible Schoolyard Gourmet Picnic for Mandarin Oriental, New York includes delicacies such as Four Story Hill Grilled Quail with Thyme; Farro Salad; Salumi; Pizza Biaca and Fresh Summer Fruit served with Candied Citrus Peel and Bittersweet Chocolate. The Mandarin Oriental Classic Picnic, created by the hotel's Executive Chef Toni Robertson, features Asian-influenced dishes including Bah Mi Rolls with Roasted Pork, Coriander-Carrot Kimchee with Green Garlic Chilli Aioli; Chicken Satay in Spicy Peanut Sauce; Soba Noodles with Ginger Sesame Dressing; and Green Tea Mascarpone Cake with Fresh Berries. Both menus are delivered in a traditional picnic basket containing eco-friendly tableware and locally sourced ingredients whenever possible.
Edible Schoolyard Picnics serve two people and are available for USD 225 exclusively to guests of Mandarin Oriental, New York via the hotel's In Room Dining Menu or through the A La Carte services webpage, accessible to guests who've booked online. Mandarin Oriental, New York's Edible Schoolyard Picnics can be enjoyed wherever guests wish, but with Manhattan's iconic Central Park just steps away from the hotel, it is a perfect place to enjoy a delicious picnic that supports an excellent cause.
About Edible Schoolyard NYC
Edible Schoolyard NYC is a nonprofit that works to incorporate health, wellness and sustainability into New York City's public school curriculum through lessons taught in the garden and kitchen classroom. Our goal is to provide an edible education to all of New York City's 1.1 million public school students in an effort to combat childhood obesity. Edible Schoolyard NYC plans to have five Showcase Schools, one in each of the city's five boroughs. At every Showcase School, Edible Schoolyard NYC will build an organic, four-season garden and kitchen classroom where dedicated staff will teach our interdisciplinary curriculum, provide family and community programming and training for teachers and principals throughout New York City. For more information, visit http://www.esynyc.org.
About Mandarin Oriental, New York
A stunning fusion of modern design with stylish Oriental flair, Mandarin Oriental, New York features 248 elegant guestrooms and suites — all with breathtaking views of Manhattan and Five-Star hospitality. Luxurious amenities include Asiate, the hotel's elegant restaurant; MObar created by noted interior designer, Tony Chi; the Lobby Lounge with dramatic views of Central Park; a 14,500-square-foot, Five-Star Mandarin Oriental Spa; and a state-of-the-art fitness center with a 75-foot lap pool. In addition, there is premium meeting and event space, including a 6,000-square-foot pillar-less ballroom with three walls of windows overlooking Central Park. Located in Columbus Circle's Time Warner Center, Mandarin Oriental, New York is in an idyllic location just steps away from world-class dining, shopping and entertainment, including the Broadway Theater District, Lincoln Center, Central Park, Jazz at Lincoln Center and the Time Warner Center's collection of upscale retail shops and restaurants.
About Mandarin Oriental Hotel Group
Mandarin Oriental Hotel Group is the award-winning owner and operator of some of the world's most prestigious hotels, resorts and residences. Mandarin Oriental now operates, or has under development, 43 hotels representing over 10,000 rooms in 27 countries, with 18 hotels in Asia, 13 in The Americas and 12 in Europe, Middle East and North Africa. In addition, the Group operates, or has under development, 14 Residences at Mandarin Oriental, connected to the Group's properties.
Photography of Mandarin Oriental is available to download, in high and low resolution, in the Photo Library of our Media section, at http://www.mandarinoriental.com.