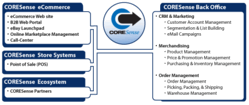 Saratoga Springs, N.Y. (PRWEB) April 02, 2012
CORESense, the leading provider of all-in-one, cloud-based retail management & ecommerce software solutions, today announced that it had provided over 45 new features to its customer base in the first quarter of 2012. These new features increase efficiencies and capabilities in order management, fulfillment and inventory management, add to the growing list of ecommerce features available on CORESense and provide enhanced support for order entry, fulfillment and tracking of catalog originated sales. 
"A key component of our software-as-a-service delivery model is the automatic and regular delivery of new features at no cost to our clients," said Chris Martin, CEO of CORESense. "CORESense clients benefit from new features and integration with 3rd party applications or services on an ongoing basis and never have to worry about software obsolescence."
CORESense is the only cloud-based retail and ecommerce management software solution that brings together point of sale, ecommerce, merchandising, order management & fulfillment, and CRM & marketing into a single, centrally managed solution.
For more information about CORESense's offerings, please visit http://www.coresense.com, email us at sales(at)coresense(dot)com or call toll free at (866) 229-2804.
About CORESense
CORESense, Inc. is the leading provider of all-in-one cloud-based ecommerce and retail software solutions for ecommerce and brick and mortar retailers and brand manufacturers. Successful retailers across multiple specialty retail markets including wine, footwear and accessories, sporting goods, fashion and apparel, books, electronics and others are leveraging CORESense's products to streamline operations, connect with customers and grow sales across ecommerce and retail store channels. The CORESense solution wraps point of sale, store operations, multi-channel ecommerce, merchandising, order management, and customer relationship management software around a centralized product, customer and inventory database providing retailers with a real-time view of their customers and their business. CORESense has offices nationally and is headquartered in historic Saratoga Springs, N.Y.