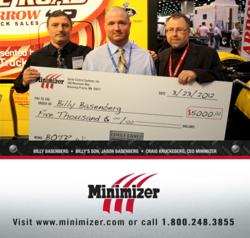 Blooming Prairie, MN (PRWEB) April 02, 2012
Minimizer once again exhibited with a strong presence at the Mid America Trucking Show held in Louisville, Kentucky March 22 – 24, 2012. It was the shows 41st Anniversary.
"I've never seen the show so packed, there were huge crowds this year," said Craig Kruckeberg, Minimizer's Chief Visionary.
This set the stage for one of the most memorable charitable opportunities for Minimizer in a long time. While at the show, Minimizer was proud to support for the fourth year in a row the Arrow Truck Sales "Back On The Road™ 2012" award for a trucker in need.
The winner was Billy Basenberg of Jasper, Alabama. He was selected as the Back On the Road 2012 driver. As the winner of Back On The Road, Billy received a 2008 MACK® Pinnacle™ High-Rise Sleeper from Mack Trucks, Inc., a one-year work agreement with Heartland Express and other products and services.
Why was Billy so deserving of this recognition? Mounting medical bills, a lack of steady income, losing his family home of 17 years, and family injuries and illnesses kept taking him off the road to care for loved ones when they needed it most. Billy's mantra of the last number of years had been to put family and friends first and work second. Financially they couldn't keep up.
His wife was in a serious car accident that forced her onto disability. And his son Jason was deployed in Iraq and survived a roadside bomb and returned home on medical leave. Billy took care of everyone including other people's children and neighbors that were in need.
As Billy helped navigate Tammie and their four sons through her eight surgeries and therapy to help her learn to walk again, Basenberg's driving loads grew lighter as their financial burdens grew deeper.
"I've never seen anything like it before," said Craig Kruckeberg, Minimizer's Chief Visionary, "this guy had a lifetime of serving others and no one was helping him. This award and opportunity represents his way to regain a livelihood and someone finally giving back to him."
Minimizer played a significant role in the award package. Billy received a $5,000 check from Minimizer that he can use to help him get on his feet today. And his truck was outfitted with customized paintable Style 1901 Minimizer fenders and bracket kits.
Now in its fifth year, "Back On The Road™" is an initiative designed to benefit a deserving trucker in need of a truck and a job. Truckers from across the nation who have lost their truck, and their livelihood, through unfortunate circumstances beyond their control, can submit their story for consideration.
"We really enjoy being a part of this project," said Craig Kruckeberg, Minimizer's Chief Visionary. "The story of Billy Basenberg is an inspiration for us all. It's an example of hardship meets hard work, the guy deserves the help and it's our pleasure to be there for him."
To order Minimizer poly fenders find a distributor by clicking here. Minimizer poly fenders and related products are available through exclusive Minimizer distributors.
For more information or to contact a dealer, call us at (800) 248-3855 or visit our website or email us at info(at)minimizer(dot)com.
About Minimizer
Headquartered in Blooming Prairie, Minn., Minimizer manufactures poly truck fenders, poly toolboxes, custom truck mud flaps, and bracket kits. Family owned and operated for nearly three generations, Minimizer parent company Spray Control Systems, Inc., was founded in 1983. Minimizer aims to provide products tough enough to please tough people in a tough industry. For more information call (800) 248-3855 or visit http://www.minimizer.com/.