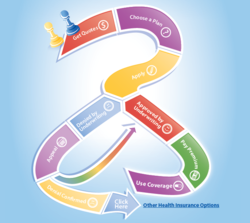 Santa Rosa, CA (PRWEB) April 03, 2012
KQ Insurance Services has made shopping for private health insurance less threatening and even entertaining. On March 30, 2012, this online health insurance agency launched a new web page with a visual of a game board called "The Path to Getting Private Health Insurance Coverage."
"Getting affordable medical insurance can be a daunting task," said CEO, John Hansen. "Many don't know where to start or even what questions to ask. This game board gives a clear picture of the process, so people know what to do in order to find the right private health insurance coverage for their families."
This info-graphic looks like a child's board game, something most people are familiar with. Each spot on the game board shows a step in the process of getting individual medical insurance coverage. There are two game pieces colored blue and yellow. These game pieces represent two individuals who experience divergent paths when shopping for private health insurance. "The first three steps are the same for Blue and Yellow," said Thomas Cazneau, Social Media Administrator at KQ Insurance Services. "Both must Get Quotes, Choose a Plan, and Apply. Then their personal health insurance paths split."
Yellow represents an individual who has been approved for private health insurance coverage. Once approved, he can start using the insurance plan. Blue represents someone who has been denied health insurance because of a pre-existing condition. He has the opportunity to appeal this denial through recent test results proving that his pre-existing condition is either under control or has been resolved. Often times obtaining this information takes time, so many customers research other options that are designed for those recently denied for coverage.
At first this visual only displayed one game piece, but KQ Insurance Services realized the importance for customers to be able to identify with both possible journeys on this "Path to Getting Private Health Insurance Coverage". They hope that customers will be able to more clearly understand the steps necessary to getting individual health insurance coverage.
About KQ Insurance Services
Since 2005, KQ Insurance Services has ranked as one of the top online individual and group health insurance agencies. The company consists of benefits specialists who provide personalized insurance services to individuals and businesses needing assistance with enrollment, quotes, and health plan questions.