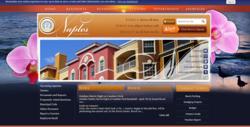 By using CivicPlus for the design and operation of the site, the City has added functionality, distributed the workload and most importantly, engaged the residents, visitors and business owners of the city in the City's operations and governing
Naples, FL (PRWEB) April 26, 2012
The City of Naples launched its new website powered by CivicPlus. The City is now able to use community engagement modules like Citizen Request Tracker, Facilities and NewsFlash to connect with their citizens. In addition to the website's innovative tools and functionality, the CivicPlus team of designers and content experts provided a beautifully crafted site with enhanced navigation features and readability.
"Both the city staff and the citizens of the City of Naples have been impressed by the new website design and its capabilities. By using CivicPlus for the design and operation of the site, the City has added functionality, distributed the workload and most importantly, engaged the residents, visitors and business owners of the city in the City's operations and governing," said City Web Services Manager Jeff Cochran. "The actual cost of the services is greatly offset by the increased functionality of the site, along with the user-centric design and navigation. Throughout the design and implementation process, CivicPlus worked closely with the City of Naples staff to produce the most effective and efficient solution that met and exceeded all the project goals and needs."
Join the City of Naples and see what our web solutions can do for your community. Click here to learn more about building an engaging website for your citizens.
About CivicPlus
Based in Manhattan, KS, CivicPlus has designed more than 1,100 local government websites serving 41 million citizens throughout North America. A recipient of the Center for Digital Government's Best Fit Integrator Award for delivering extraordinary digital solutions to public IT projects, CivicPlus invests more than $1.17 million each year to research and develop new customizable, integrated eGovernment applications. CivicPlus transforms municipal websites into powerful two-way communication platforms that let citizens talk to and participate in local government. The innovative CivicPlus Government Content Management System™ now offers more than 60 applications including Citizen Request Tracker™, MuniMobile™, Facebook and economic development tools. Founded in 2001, CivicPlus was selected by Inc. Magazine as "One of the Fastest-Growing Privately Held Companies in the U.S." in 2011. For more information visit http://www.civicplus.com.
###