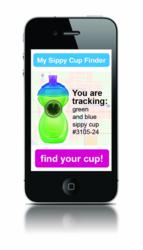 North Hills, Calif. (PRWEB) April 01, 2012
Munchkin, Inc., leading designer and manufacturer of clever infant and toddler products, today announced the launch of its signature Click Lock™ GPS, a first-of-its-kind sippy cup designed with a built-in GPS transmitter. To address parents' frustrations with misplaced sippy cups, Munchkin, Inc. combined the Click Lock™ cups' unprecedented leak-proof performance with state-of-the-art built-in location technology that finds a lost or stray cup and pin-points its location on the "My Sippy Cup Finder" iPhone App.
"Munchkin, Inc. understands that wasting precious time looking for missing sippy cups, or worse, accidentally locating a forgotten cup by its smell, can be frustrating," said Steven Dunn, chairman and CEO, Munchkin, Inc. "To solve this problem, we have enhanced our Click Lock™ cups' already advanced leak-proof technology with GPS functionality. Parents will save money and time now that they can track the location of their children's lost sippy cup online."
The Click Lock™ GPS cups were also designed with safety in mind. To prevent curious hands from tampering with the transmitter beacon, the technology is securely and permanently fastened to the "waist" of the cup via a BPA-free band.
Each cup can be activated by downloading the "My Sippy Cup Finder" app from the iTunes App store and entering its unique barcode. Once the cup is registered, its beacon will automatically send regular updates to satellites, allowing parents to identify their Click Lock™ cup's location within several feet in less than 60 seconds.
Munchkin's innovative new model builds off its award-winning, proven leak-proof Click Lock™ cup technology, which provides tactile, visual and audio cues to confirm the lid is properly locked in place. When the lid is turned to the closed position, the Click Lock™ cup makes a clicking sound to provide an audio reinforcement, the edges line up to create a visual reinforcement, and tabs click past each other to create a tactile reinforcement. These sensory cues make it easy for parents to properly close and lock the cup's lid, providing complete assurance that the cup is ready for mess-free use.
The Click Lock™ GPS by Munchkin (MSRP $29.00) comes in an array of vibrant colors and is backed-up by a money-back guarantee. For more information or to order online, please go to http://www.Facebook.com/Munchkin and click on the Click Lock™ GPS tab.
To celebrate this exciting new product launch, Munchkin, Inc. will be giving away 100 free Click Lock™ sippy cups to Facebook fans on today, April 1, only.
About Munchkin, Inc.
A privately held, global company headquartered in North Hills, Calif., Munchkin, Inc. creates baby products that excite, delight and make life easier for today's parents. Founded in 1991, Munchkin, Inc. has always placed great emphasis on innovation, redefining what baby products can achieve. As a result, Munchkin has reinvigorated the category with improvements such as a 2-in-1 bottle brush design and White Hot® Technology that lets moms know if the bath water or the car interior is too hot. A strategic partnership with Church and Dwight resulted in a line of diapering products that work with pure, natural baking soda, including the ARM & HAMMER™ Diaper Pail by Munchkin, winner of the American Baby Award. In January of 2010, Munchkin acquired Lindam Ltd., the U.K.'s top baby safety brand and subsequently launched a line of safety gates and accessories in North America. Munchkin, Inc. has won more than 40 industry awards, including multiple wins of the coveted Target® Corporation Partner Award of Excellence and the Toys "R" Us 2012 Vendor of the Year award. Endorsed and recommended by sleep and safety experts, medical professionals, toy specialists and parents, Munchkin products can be found at retail outlets internationally. For more information, visit http://www.munchkin.com.
http://www.munchkin.com http://www.Facebook.com/Munchkin twitter.com/munchkin_inc
###