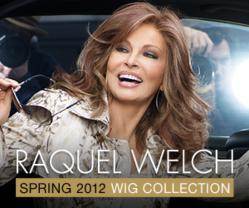 It's easy to look your best when you choose the best.
Dallas, TX (PRWEB) April 03, 2012
The Raquel Welch brand has introduced the Spring 2012 Wig Collection inspiring women to look their best in a moment's notice. Wigs.com anxiously prepared for this year's Spring Collection by enhancing it with their signature TruColor enhanced color charts and 360degree HD videos. The much-anticipated collection was launched on April 2nd by The Wig Experts™. The collection features effortless styles and the most coveted characteristics available in the wig market today.
As an extremely busy working woman, Raquel Welch needs to be camera ready from the moment she wakes up. Each wig is titled according to an aspect of her glamorous lifestyle. In the collection's catalog, she takes us along with her from day to night, all while wearing one of her gorgeous wigs. Raquel says, "With my hair collection you are always good-to-glow!" The wig collection promises women, regardless of their lifestyle, instant beautiful hair.
The featured wig of this collection, Camera-Ready, is a ready-to-wear style. Because of its luscious long layers and natural movement, this wig has won Raquel's affection. She wore this wig to the Lincoln Center Film Society event thrown in honor of her film career. This is a personal favorite of Wigs.com – The Wig Experts™ because it captures the essence of Raquel's sex appeal. "We all want that sexy look Raquel seems to have been born with. That's why we think this wig is going to be a sensational hit," said Marketing Director, Kristen Boozer.
Heart Throb is an off the shoulder layered style that is light and secure – a shorter spin on Raquel's signature look. On Cue exudes all of the natural luxury only human hair can manifest. Not only does this wig offer the most natural look and feel, but it is also ideal for the hair loss client. As the hair is 100% hand-tied onto the monofilament top, this wig offers an ultra light cap and incredibly natural movement. Raquel Welch says, "It's easy to look your best when you choose the best." From short to long, this collection encapsulates enviable styles any woman can wear with ease and beauty.
The much anticipated wig collection by Raquel Welch does not disappoint. Obviously the secret to Raquel's flawless hair lies in her own personal use of wigs every day. Her constant use of wigs is a true testament of their appeal. When you're a woman on the go, ready-to-wear hair is the answer to looking great in no time.
Explore the seven new wig styles of the Raquel Welch Spring 2012 Collection at Wigs.com. View an exclusive behind-the-scenes look of the collection's photo shoot by Wigs.com at their company blog.