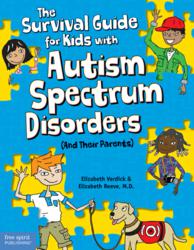 Minneapolis, MN (PRWEB) April 02, 2012
One in 88 children has been diagnosed with an autism spectrum disorder (ASD)—Asperger's, autism, or a pervasive development disorder. "The Survival Guide for Kids with Autism Spectrum Disorders (And Their Parents)" ($16.99, Free Spirit Publishing) is a comprehensive resource to help kids with ASD both understand their condition and find tools to cope with the challenges they face every day. Written by best-selling children's author Elizabeth Verdick and child psychiatrist Elizabeth Reeve, M.D.—both mothers to autistic sons—this survival guide offers accessible, easy-to-understand advice on living with autism spectrum disorders.
Meant to be read with a parent, "The Survival Guide for Kids with Autism Spectrum Disorders (And Their Parents)" is divided into three parts. Part 1, "A Look Into Autism Spectrum Disorders," is a primer on the symptoms and sensory issues of ASDs and addresses big questions, like, "What's an ASD?" "What are the symptoms?" and "Why me?" Part 2 of the book focuses on improving daily life at home, at school, and out in the world, offering tips for making the everyday stuff easier. A social skills survival kit provides strategies for communicating, making conversation, making and keeping friends, and succeeding in school. Part 3, "Body and Brain Basics," highlights symptom management, exercise, healthy and helpful eating, hygiene, relaxation, sleep, toileting, feelings, and stims. Special emphasis is placed on helping children handle intense emotions and behaviors and get support from family and their team of helpers when needed.
Throughout the book readers will find full-color illustrations, real-life stories and quotes from kids with autism spectrum disorders, helpful facts and checklists, and additional resources. Sections for parents discuss how to use the book, sharing a diagnosis with the child, and more detailed information on topics addressed in the main kids' text.
The authors place an emphasis on helping children gain new self-understanding and self-acceptance. They want their readers to know that they aren't "their disorder" or a constellation of symptoms—they are whole people, and they aren't alone. "The Survival Guide for Kids with Autism Spectrum Disorders (And Their Parents)" can help children through the questions, the challenges, the frustrations, and the successes—the journey—of living life with autism.
About the authors
Elizabeth Verdick is the author of books in several Free Spirit series including Toddler Tools™, Best Behavior ™, Laugh & Learn™, and Adding Assets for Kids. In this survival guide, she writes from the perspective of a mother with a son on the spectrum and a passionate advocate for kids and parents in the autism community. Elizabeth lies near St. Paul, Minnesota.
Elizabeth Reeve, M.D., contributes her medical knowledge and her experiences as a mother of a son who has autism. As a child psychiatrist at HealthPartners in St. Paul, Minnesota, her clinical work focuses primarily on children and adults with developmental disabilities. In addition to her research and patient care, Elizabeth is involved in teaching, speaks in the community to educate others in the field of developmental disabilities, and helps young adults with ASD transition into college and the work force. She lives in Minneapolis, Minnesota.
About Free Spirit
Headquartered in Minneapolis, Minnesota, Free Spirit is the leading publisher of learning tools that support young people's social-emotional health and their educational needs. Free Spirit's mission is to help children and teens think for themselves, succeed in life, and make a difference in the world. For more information, visit http://www.freespirit.com.
The Survival Guide for Kids with Autism Spectrum Disorders (And Their Parents)
ISBN 978-1-57542-385-2 / $16.99 / Softcover / 240 pp./ full color / 7" x 9" / For ages 8–13 with autism spectrum disorders and their parents
Reviews:
"With so many children being diagnosed with autism spectrum disorders, numerous new advice books are becoming available. This is one of the more useful ones . . . It explains in clear language strategies children can train themselves to employ to improve functioning in the neurotypical world and why these might be useful. Generally useful and easily readable . . . with lots of practical advice, especially appropriate for grade-schoolers and their caregivers."
—Kirkus
"Should be one of the first books a family buys after a diagnosis . . . it will be invaluable to so many children and their families."
—Claire LaZebnik, coauthor of Overcoming Autism and Growing Up on the Spectrum
"The authors have done a superlative job addressing the core issues of ASD in an honest, kid-friendly way. Best of all, they do it within an upbeat 'can do' spirit that never feels phony or pretentious. It's this constant current of ability, rather than disability, that sets this book apart from others geared to spectrum kids."
—Veronica Zysk, coauthor of 1001 Great Ideas for Teaching and Raising Children with Autism or Asperger's