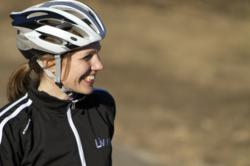 "The origin of the word 'inspire' is actually to breathe in or to take in... For me, the word 'inspire' on the bike speaks to both the very personal experiences that go with breast cancer and the great power of a community." - Emily Gresh
Newbury Park, CA (PRWEB) April 02, 2012
One evening this past February, Emily Gresh was strolling downtown New Haven, CT, near Yale-New Haven Hospital -- where she had been diagnosed and treated for breast cancer in August 2010. Now it was February 2012 and Emily had just received a phone call from Elysa Walk, General Manager of Giant Bicycle USA, who told Emily she had won a bicycle design contest sponsored by Liv/giant and the Young Survival Coalition.
"I had outstanding treatment at Yale-New Haven, but there is no good way to hear the news that you have cancer," said the West Hartford, CT, resident. "A little over a year later, to hear the great news about my bicycle design completely warmed my heart – one big warm glow in the middle of a cold February night." Emily continued, "You can imagine my smile and laughter as I stood there on the street talking to Elysa, thanking her and Giant, and then calling my family and a few of my close friends and sharing this unbelievable news."
The contest, held last October, challenged young breast cancer survivors to design graphics for a special-edition Liv/giant Avail road bike. The winner's design would be applied to a bike, the sales of which would benefit the Young Survival Coalition (YSC). As the bike designs came in, one particular submission rose to the top—it was the only design that included a theme. That theme was Inspire, and that submission belonged to Emily Gresh.
"The origin of the word 'inspire' is actually to breathe in or to take in," Emily explained. "Though today we are more likely to think of it in its common motivational sense, I love the notion of the word being rooted in simply breathing in. Even in our most difficult and private moments, we still have that power, to breathe in. For me, the word 'inspire' on the bike speaks to both the very personal experiences that go with breast cancer and the great power of a visible community. It acts as a reminder of what is possible in life, and in living post-cancer, and how much support we have to help us through."
"Emily's story and her bicycle design touched all of us so much," said Elysa Walk of Giant USA. "For several years we've been a sponsor of the YSC Tour de Pink bicycle rides. We learned in her design application that Emily decided to ride the East Coast Tour de Pink while she was recovering from her surgery. Her eloquence as she related her story and the theme she incorporated into her design for the Avail Inspire seemed to speak directly for breast cancer survivors and their families."
As Emily recovered, she found the website of the Young Survival Coalition and saw photos of women just like her who had completed the three-day Tour de Pink. "I saw in the ride, in those faces, a community of people who in the very act of being together cycling were also bearing the weight of what they had been through," she recalled. "I wasn't sure how on earth I was going to bear what I was going through when I was first diagnosed, but here were other people who had gotten through and had found each other along the way, too."
Emily rode more than 200 miles to complete the 2011 East Coast Tour de Pink, and she's training to ride the event again in 2012. "When I started to take those first training rides on my own in anticipation of Tour de Pink, I began to really discover the great things about where I live now in ways I hadn't opened my eyes to before," she said. "Years ago, while living in Boston, I was an everyday bicycle commuter. But that ended when I moved to Connecticut." She continued, "As I began to train for the Tour, I learned how to make biking a regular part of my life again after missing it for so many years. My goals are to just keep enjoying it. I am so glad to be out on the bike every time I ride—there is so much for me just in the simple pleasures of it."
Today, the 40-year old wife, mother, and fund-raising professional writes a blog about her cycling experiences. Follow Emily at: http://swanorettionabicycle.com (Swanoretti on a Bicycle)
The limited-edition Liv/giant Avail Inspire road bike is on sale now at select Giant bicycle retailers around the country with a retail price of $1360. 10% of the proceeds from the sale of the bicycle as well as Inspire-themed Liv/giant jerseys, socks, and water bottles are being donated to the Young Survival Coalition.
The 2012 YSC Tour de Pink East Coast ride rolls from Philadelphia to Washington, D.C., September 28 – 30, and the Tour de Pink West Coast event rolls from Thousand Oaks, California to Foothill Ranch, CA, October 12 - 14.
To discover more about Emily Gresh and the Liv/giant Avail Inspire, and to find a Giant retailer selling the bicycle, go to http://www.LivgiantUSA.com/Inspire. The web page also provides a link with more information about the Young Survival Coalition and how to participate in a Tour de Pink ride.
About Liv/giant
Liv/giant is a cycling brand dedicated solely to female riders and inspiring them to lead happier, healthier, more adventurous lives through cycling. To learn more about Liv/giant, the brand's bikes and gear, and Giant retailers who carry those products, please visit http://www.giant-bicycles.com/en-us/livgiant/.
About YSC
Young Survival Coalition (YSC) is the premier global organization dedicated to the critical issues unique to young women diagnosed with breast cancer. YSC offers resources, connections and outreach so women feel supported, empowered and hopeful. With an interactive website and almost 30 affiliates across the United States, it is YSC's goal that young women with breast cancer know that they are not alone. For more information, go to http://www.youngsurvival.org