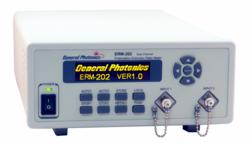 One-step testing of dual-output PM devices.
Dhino, CA (PRWEB) April 02, 2012
General Photonics, a market leader in optical polarization measurement, announced today its second generation (Gen2) polarization extinction ratio meter, the ERM-202. The new instrument is available in single or dual-port configurations. The single-port version can be upgraded post-purchase by adding a second port. According to General Photonics president Dr. Steve Yao, "Many customers test photonic devices with two output ports, such as PM fiber couplers and polarization beam splitters. A dual port instrument increases their test speed, reduces their cost and takes up less bench space." The ERM-202 replaces the ERM-101, a single port instrument that the company has marketed since 2006.
The ERM-202 measures Polarization Extinction Ratio (PER), the ratio between the power in one axis of polarization and the power in an orthogonal axis. It is a critical parameter for characterizing the performance of polarization maintaining (PM) fiber and devices. PM fiber and devices play an increasingly important role in telecommunications systems. PM components are used in fiber optic communication systems, fiber amplifiers, fiber lasers and fiber sensors. High performance fiber gyros that are used in aircraft and space vehicles rely on coils of PM fiber that must maintain a high extinction ratio.
Technical Specifications
The ERM-202 measures the PER of light at wavelengths between 1260 and 1650 nm with a 50 dB dynamic range. Dynamic range, the most important specification of an Extinction Ratio meter, is optimized by the careful design of every part of optics and mechanics. Improvements over the older ERM-101 include faster remote control and cooler operation for better reliability, as well as the dual-port option. Additionally, the ERM-202 is one of the first fiber optic instruments in the world to offer an Organic LED display (OLED) for high resolution, better visibility, and large viewing angle.
Pricing and Availability
The ERM-202 will be available for delivery in 6 to 8 weeks. Purchasing details and additional specifications can be made available by contacting General Photonics via email at sales@generalphotonics.com.
About General Photonics
Founded in 1995, General Photonics is an award-winning manufacturer of advanced optical polarization modules and instruments. The company holds numerous patents on photonic designs, and its staff has authored a number of published articles on polarization and delay control. Customers include research organizations, manufacturers of communication systems, aerospace companies and medical system manufacturers.
The company is privately-held with headquarters and manufacturing facilities in Southern California. A design, engineering and technical support center is located in Beijing, China. Sales worldwide are conducted through a network of distributors and representatives. More information can be found at the company's website, http://www.generalphotonics.com.
References to corporate, product or other names may be trademarks or registered trademarks of their respective owners.