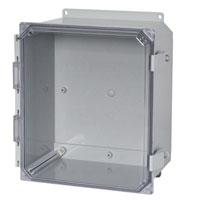 Riverside, CA (PRWEB) April 01, 2012
Allied Moulded Products, Inc., an industry leader in fiberglass enclosures, has introduced the Polyline™ series of injection molded products made from polycarbonate thermoplastic. The Polyline™ enclosures open up additional markets for Allied Moulded with many new applications more fitted to the technical characteristics of polycarbonate such as greater impact strength, durability, and ease of modification for both indoor and outdoor environments. Solutions Direct is an authorized distributor for Allied Moulded's fiberglass enclosures and most recently its line of NEMA 4X polycarbonate enclosures. We also offer a comprehensive product line of metal enclosures, non-metallic enclosures, and thermal management products.
Polycarbonate enclosures are used in harsh environments such as waste water treatment, irrigation/water control, solar/wind, chemical plants, and outdoor wireless installations. The main advantages of polycarbonate over traditional enclosures are the following: impact strength, durability, and ease of modification. The impact strength of polycarbonate is greater than other non-metallic materials. Also, the thermoplastic material has UV resistance and does not bloom or deteriorate in sunlight. When it comes to modifications, polycarbonate does not splinter or create dust as does fiberglass material. Lastly, the injection molding manufacturing process of polycarbonate enables pricing to be 20-25% less than the other non-metallic enclosures. This brings a significant cost savings to end users.
The Polyline™ polycarbonate enclosure series consists of 5 models ranging in sizes from 6" x 6" x 4" to 14" x 12" x 6" and is UL, CSA, and NEMA compliant. Conforms to the NEMA 4X standard, which means these enclosures are watertight, can withstand direct water spray, and are corrosion resistant. Models with lift-off screw covers (opaque and clear) have achieved a rating of NEMA 6P or IP68 (submersible up to 24 hours at a depth of 6 feet). Allied Moulded's Polyline™ comes standard with "industry exclusive" mounting options, including an out-of-the-box mounting flange or adjustable mounting feet to cover various mounting configurations. Some other features include metallic or non-metallic snap latches, molded-in latch keepers and mounting bosses, a tongue and groove seal design, and molded-in back panel bosses with brass inserts and additional center bosses for mounting DIN rail. A clear polycarbonate cover option is also available for instrumentation applications where critical electrical/electronic equipment must be visible and protected from the elements.
When the application requires internal mounting of components, the Polyline™ accessories such as back panels or hinge front panels will provide greater design capabilities. Back panels are available in painted white steel or aluminum. When space is at a premium, or there is a need to cover electrical wiring, the aluminum hinge front panel is an ideal option. The Polyline™ series contains adjustable corner panel mounts for supporting the aluminum hinge front panel. The molded in corner slots provide either flush positioning with the box top or can be adjusted to 1.5" deep.
About Allied Moulded:
Founded in 1958, Allied Moulded has more than 50 years of knowledge and experience in molding fiberglass reinforced materials and is well known within the electrical industry as a quality manufacturer of non-metallic electrical products. Allied Moulded manufactures a full line of corrosion and UV resistant NEMA Type 4X non-metallic enclosures for indoor or outdoor applications. Allied Moulded enclosures are manufactured of thermoset and thermoplastic and offer all the advantages of non-metallic materials including: UL (listed), RoHs compliance, increased strength, reduced weight, corrosion resistance, non-conductivity, UV resistance and ease-of-installation. These enclosures are made in the U.S.A. and installed in hundreds of demanding applications in dozens of industries worldwide.
About Solutions Direct Online:
Solutions Direct Online is an online distributor that provides technical products for industrial customers and strives to provide the highest quality products at affordable prices. A partial list of our products include: electrical enclosures, electronic racks & cabinets, infrared temperature measurement products, material testing equipment, process control & measurement products, and scales & balances.