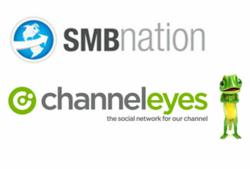 Bainbridge Island, WA (PRWEB) April 02, 2012
SMB Nation and ChannelEyes have teamed up to provide new content and services aimed at making IT professionals' jobs easier than ever. With SMB Nation having a long history of media integration, and ChannelEyes as a new social networking service that connects IT vendors and SMB channel partners, both have a primary mission of serving the SMB IT channel.
Through the new partnership, SMB Nation will help ChannelEyes spread its message among SMB Nation's tribe of 45,000 IT professionals and will also publish content related to the social network. For its part, ChannelEyes will highlight SMB Nation content and promote the company's events among its membership. SMB Nation plans to leverage its partnership with ChannelEyes to offer material related to the suppliers, distributors, associations, and peer groups that are of interest to ChannelEye members.
"ChannelEyes brings a much needed service to the SMB IT channel. Their social network will simplify communication between vendors and channel partners and provide a one-stop shop for channel partners wanting to manage their existing vendor relationships or discover new partner opportunities. ChannelEyes is the perfect venue for sharing SMB Nation's experience and expertise," said Tom Poole, CEO, SMB Nation.
ChannelEyes operates a social network through which vendors communicate directly with channel partners via feeds that appear on a social wall. Vendors can then customize their feeds to ensure that channel partners only receive information relevant to them, and channel partners can subscribe to whichever vendor feeds interest them. ChannelEyes offers its users a variety of additional social functions, including feed filtering (by roles, popularity, likes, and incentives); real-time conversations surrounding feeds; and searchable profiles.
Our executive team members have all been involved with SMB Nation for many years. We know firsthand that the SMB Nation tribe is a highly technical, passionate group of professionals," said Jay McBain, co-founder of ChannelEyes, "We're pleased to partner with them to offer channel members the ability to communicate and collaborate more deeply with vendors in an effort to maximize everyone's profits and efficiency."
The SMB Nation/ChannelEyes partnership begins immediately and will extend through March 2013.
About SMB Nation
SMB Nation is a media integration and events community, targeted at the small and medium business (SMB) channel partner/reseller/consulting/VAR community. SMB Nation spreads the knowledge of SMB technology trends through its conferences, books, print magazine, online services, and worldwide seminars, workshops and accredited Pocket MBA certificate (an academic partnership with Aspen University). As an active participant in the technology community, SMB Nation has a long history of enthusiastic advocacy and evangelism. The SMB Nation tribe exceeds 54,000 followers worldwide. For more information, visit http://www.SMBNation.com, http://www.CloudNation.co and http://www.Telephonation.com. Follow us on Twitter @SMBNation, and join our Facebook page at: http://www.facebook.com/SMBNation.
About ChannelEyes
ChannelEyes LLC will provide the first free and secure social network to aggregate Channel Program information, transforming communication between suppliers and Channel Partners, integrators, dealers and agents. For more information about ChannelEyes, follow us on: http://www.facebook.com/channeleyes; http://www.twitter.com/channeleyes and http://www.linkedin.com/channeleyes.
For more information, contact:
Tom Poole
CEO
SMB Nation
425 442-2244
tom(at)smbnation(dot)com