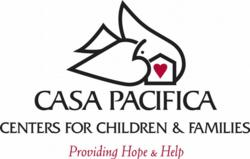 Generously hosted by the Zarley and Van Huisen Families, the Casa Pacifica Angels Wine & Food Festival will be revved up by Ventura County's favorite emcee, Bruce Barrios as well as a strong lineup of celebrities.
Camarillo, CA (PRWEB) April 02, 2012
Casa Pacifica is excited to hold the 19th annual Casa Pacifica Angels Wine & Food Festival on Sunday, June 3rd, 2012, from 1:00pm-4:00pm at California State University Channel Islands' campus in Camarillo.
Voted Best Cultural Festival in Ventura County for the last four years running, the annual Casa Pacifica Angels Wine & Food Festival is one of the area's premiere wine and food events, with all proceeds benefiting the Casa Pacifica Centers for Children and Families. Complete with continuous live entertainment and the largest silent auction in Ventura County, the Festival offers young and old alike the chance to taste their way through mouthwatering treats from the finest restaurants, caterers, bakeries, and specialty shops from Santa Barbara to Conejo Valley. The event also features many renowned wineries and vineyards from throughout California's rich wine-producing regions, as well as several award-winning breweries.
Last year the Festival raised more than $300,000(net) to support the work of one of the community's most dedicated charities. Thanks to the ongoing support of its gracious sponsors, the Casa Pacifica Festival is back again, this time with the ambitious goal of raising $375,000(net) to help fill the growing $2.6 million gap between government revenues and actual costs to provide critical help for abused, neglected, or at-risk children and families in Santa Barbara and Ventura counties.
Generously hosted by the Zarley and Van Huisen Families, the Casa Pacifica Angels Wine & Food Festival will be revved up by Ventura County's favorite emcee, Bruce Barrios as well as a strong lineup of celebrities. Sponsorship Opportunities are still available, ranging from $1,500 to $20,000. Visit the Festival website to sign up as a sponsor or Festival exhibitor or consider being part of this exciting event by donating an item to our silent auction. Don't miss out on this great opportunity to place your name in front of thousands of potential customers!
The Yummie Top Chef Awards will be the culinary competition of the year, with a star studded table of judges. Actor, Oded Fehr will take part as this year's Yummies Emcee; Fehr has acted in movies and television such as The Mummy, The Mummy Returns, Resident Evil: Apocalypse, ABC's Covert Affairs and more. Celebrity judge Chef Fabio Viviani from the TV show Top Chef (seasons 5 & 8) and Owner & Executive Chef of Café Firenze will return to the Yummies along with Chef Adrien Nieto, Master Chef runner-up and Owner of Cruda catering.
The Shuttle Sponsor, Roadrunner Shuttle & Limousine Service, will once again provide the Safe Ride Program, which will offer transportation to and from the Festival. Prices start as low as $15 per person, each way. Ride reservations can be booked online at http://www.cpwineandfoodfestival.com, or by calling (805) 389-8196.
All-inclusive general admission festival tickets can be purchased online for $100 each until June 1st, 2012 at http://www.cpwineandfoodfestival.com and will be $125 each at the door; price of admission includes wine and food. VIP Tickets are available for $200 each and include VIP parking, early admission, and access to the VIP Lounge, featuring Malibu Family Wines, the Anheuser Busch Belgium Beer Garden, and musical guests Sound Effect.
The 2012 Casa Pacifica Angels Wine and Food Festival is thankful for the help of its Hosts, the Zarley and Van Huisen families and its many generous sponsors. Champagne Sponsor - Ventura Rental Party Center, Burgundy Sponsor - PODS, Cabernet Sauvignon Sponsors – Digital Imagination, Fairis Hansen Trust/Leigh & Stan Jensen, and Wells Fargo Bank. Merlot Sponsors – AAA Propane Service, Inc., Colton Lee Communities LLC, Compulink Business Systems, DCH Audi of Oxnard, E.J. Harrison & Sons, Inc., Lisa West & David Jaffe, DEX, Jaks Marketing Group, Mirada Petroleum Inc., PMA/ILWU, Premier Event Production, and Rabobank. Pinot Noir Sponsors - Bruce Barrios Productions, Susan & Ken Bauer, D & S Berry Farms, Five Star Bookkeeping, Holthouse Carlin & Van Trigt LLP, Michael W. McCarthy DDS & Cristin Lindal DDS, Montecito Bank & Trust, Oxnard Harvest, Sandy & Bill Puchlevic, Santa Rosa Transplant, Skating Plus, Ventura Signs & Screen Printing, Vintage Production California LLC, and Westerlay Orchids. Chardonnay Sponsors – City National Bank, Community Memorial Health System, Fashion Forms, Fence Factory, Hillrise Development, Robert Improta M.D./Pacifica Institute of Cosmetic Surgery, Laubacher Farms, Gary Nakamura, Jeff Nicholl Physical Therapy, June & Clay Paschen, Michelle & Greg Paschen, William Powell, Radiation Oncology Centers of Ventura County, Laura, Skylar & Estelle Sharpe, Tanya & Paul Sorum, and West Coast Air Conditioning. Syrah Sponsors – 360 Group International, Inc., Annie & Claude Blackburn. Hotel Sponsor - Courtyard Marriot. Media Sponsors, 805 With Tom & Sandy/Ventura, Thousand Oaks & Santa Barbara Night Out, Camarillo Acorn, Coupons and More, CSQ Magazine, Cumulus Media, Gold Coast Broadcasting LLC, KEYT 3, Elegant Living Magazine, Marketing Maven Public Relations, Playlist 92.7FM, Society Magazine, Ventana Monthly/VC Reporter, VC Buzz Magazine, Ventura County Star, Wandering Wino, and Wide Eyed Productions.
About Casa Pacifica Centers for Children & Families
Casa Pacifica Centers for Children and Families is a crisis-care and residential treatment facility for abused, neglected, or at-risk children in Ventura and Santa Barbara counties. The agency is the largest non-profit provider of children's mental health services in both counties and along with its campus-based programs administers a number of community-based programs which are designed with the intent to strengthen families and keep children in their homes. For more information about Casa Pacifica visit its website http://www.casapacifica.org or call the Development Department at (805) 445-7800.
# # #