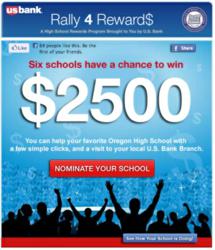 U.S. Bank and OSAA reward Oregon high schools using social media solutions from Cafegive social.
Portland, OR (PRWEB) April 04, 2012
U.S. Bank is encouraging schools to Rally4Reward$ as they near the end of an integrated social media and on premises program to reward OSAA high schools in Oregon with funds for programs and activities using a social media application from CafeGive Social. The program is a joint effort between U.S. Bank and the OSAA. Schools are awarded points when the community participates. One high school in each of OSAA's six athletic divisions that earns the most points will be rewarded with $2500. Awards are intended to fund any program or activity at the school.
How the program works
To nominate a high school and start earning points, visit the U.S. Bank Facebook page, and click on the Rally4Reward$ tab. Nomination points can be earned both on-line and by printing out the nomination form and visiting any U.S. Bank branch in Oregon. Existing customers, new customers and visitors are all awarded points for the school they nominated when they visit an Oregon U.S. Bank branch and drop off their nomination forms. Cash rewards of $2,500 each will be given to the six schools earning the most points in the Rally4Reward$ program. Schools in each of OSAA's categories for athletic programs are eligible, so the competition is between schools of similar size. The program is running now and ends on April 13, 2012.
U.S. Bank has supported the OSAA since 1984. This is the first scholastic giving program that takes their support to social media. The program was developed with CafeGive Social, and takes advantage of their social marketing platform and web and social media applications designed to help companies engage with fans on a website or in social media and to enhance a traditional in store promotion. By using CafeGive, Rally4Reward$ can be shared across Facebook by friends to reach high school supporters quickly and easily. Parents and community supporters are encouraged to participate and to show support for their local Oregon high school.
About Oregon School Activities Association (OSAA)
The OSAA is a private, not-for-profit 501(c) 3. Its emphasis is placed upon supporting the schools, students and activities sponsored by Oregon School Activities Association. To be part of the OSAA Foundation and to help aid the Future of Oregon High School Activities, visit http://www.osaafoundation.org or contact the Foundation directly at 501.682.6722 X239.
About US Bancorp
U.S. Bancorp (NYSE: USB), with $340 billion in assets as of Dec. 31, 2011, is the parent company of U.S. Bank, the fifth-largest commercial bank in the United States. The company operates 3,085 banking offices in 25 states and 5,053 ATMs, and provides a comprehensive line of banking, brokerage, insurance, investment, mortgage, trust and payment services products to consumers, businesses and institutions. U.S. Bancorp and its employees are dedicated to improving the communities they serve, for which the company earned the 2011 Spirit of America Award, the highest honor bestowed on a company by United Way. Visit U.S. Bancorp on the web at http://www.usbank.com.
About CafeGive Social
CafeGive social connects businesses, causes and the people who care about them through social media applications. CafeGive social is used by businesses, marketing agencies, bloggers, and nonprofits to create branded interactive cause marketing campaigns on websites and Facebook. CafeGive social solutions showcase and encourage donation stories, promote charitable works or cause marketing programs while building consumer awareness and loyalty. CafeGive is headquartered in Portland, Oregon. For more information visit CafeGive Social.