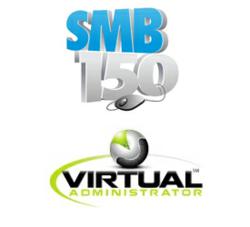 Bainbridge Island, WA (PRWEB) April 01, 2012
Chris Amori, President of Virtual Administrator, a division of Network Depot, LLC, has been nominated for the 2012 SMB 150 Influencers List. The SMB 150, a collaboration of SMB Nation and SMB Technology Network, recognizes the top 150 influencers within the worldwide SMB IT channel.
Chris Amori expressed his excitement at being in the running for this year's awards: "Virtual Administrator was born out of the desire to help other IT companies succeed in managed services. It is rewarding to be recognized for my efforts, and I am humbled to be included with some of the heavy-hitters of the industry."
The first phase of the award's selection process has already begun and consists of online community voting, open to anyone at smb150.com. Visitors may vote for candidates up to once per day. Open voting lasts until April 6, 2012, at which point a panel of industry experts will certify the online ballots and cast their own votes for nominees. Community voting counts for 40% of each nominee's score, with the remainder determined by the expert panel's votes.
Harry Brelsford, founder and chairman of SMB Nation, congratulated Chris Amori, along with every other SMB 150 nominee. "I'm excited for all of our SMB 150 nominees. Each and every one of them has worked tirelessly to improve the SMB IT channel—and, by extension, the small business sector as a whole. I hope that everyone who has benefited from our nominees' expertise will show their support and appreciation at smb150.com."
In addition to inclusion on the SMB 150 list in SMB Nation magazine, each SMB 150 winner will receive a free BlackBerry PlayBook (64GB) and an invitation to the SMB 150 Awards Gala in Los Angeles, CA, on May 16, 2012. The 2012 SMB 150 has been made possible by Research In Motion, the platinum sponsor for this year's event.
About Virtual Administrator
Virtual Administrator, a division of Network Depot, LLC, is based in Reston, Virginia. Network Depot has twice been named as one of the MSPMentor's TOP 100 MSPs. Created in 2005 from the merger of ForSense Solutions (est 1991) and Amori Network Solutions, Inc. (est. 2001), Network Depot supports hundreds of customers in the Washington DC metro area. Virtual Administrator was created from a desire to help small IT shops become bigger ones by allowing them to have access to the same quality tools that previously only larger companies could afford.
Our business model is a simple one. We extend the same Managed Services tools and best practices we use in our own Washington, DC area IT Services business to other IT Providers, helping them become more productive and profitable. Our partners are provided with detailed training and support on how to use these "best-of-breed" tools in a real world setting. This "hands-on" approach separates us from our competition. We understand Managed Services. To learn more, please visit http://www.VirtualAdministrator.com.
Contact:
Dan Kolansky (dan-at-virtualadministrator.com) - 703-230-2305
Chris Amori (chris-at-virtualadministrator.com) - 703-230-2301
About SMB Nation
SMB Nation is a media integration and events community targeted at the small and medium business (SMB) channel partner/reseller/consulting/VAR community. SMB Nation spreads the knowledge of SMB technology trends through its conferences, books, print magazine, online services, worldwide seminars, workshops and accredited Pocket MBA certificate (an academic partnership with Aspen University). As an active participant in the technology community, SMB Nation has a long history of enthusiastic advocacy and evangelism. The SMB Nation tribe exceeds 54,000 followers worldwide. For more information, visit http://www.SMBNation.com, http://www.CloudNation.co and http://www.Telephonation.com. Follow us on Twitter @SMBNation, and join our Facebook page at: http://www.facebook.com/SMBNation.