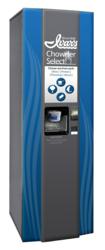 Seattle, WA (PRWEB) April 01, 2012
Iconic Seattle restaurant chain Ivar's today unveiled a groundbreaking new vending machine that delivers customized, mixed-to-order chowders at the touch of a button, 24 hours a day. Named Ivar's Chowder SelectCM, the innovative vending kiosk blends the best in consumer customization, high technology and accessibility, ensuring hungry patrons can "hit the spot" any time day or night with thousands of delicious chowder combinations to choose from.
"Our founder Ivar Haglund always had an eye for innovation and was fascinated by all things futuristic," exclaimed Ivar's Director of Marketing Kirsten Wlaschin. "With our new Ivar's Chowder Select machines, we're bringing his vision into the 21st century and our fans now can get chowder in more outlets on their terms. This is dispensing technology is unprecedented in the market for hot chowders. The interactive experience puts the control in the customers' hands making this a dynamic product."
Marketed under the tagline "Where soup is never the same," the new Ivar's Chowder Select kiosks are swimmingly easy to use and work as follows:
1. A chowder-seeker approaches the machine and presses the anti-glare, anti-bacterial, touch screen to begin.
2. The user is then walked through a simple on-screen sequence of four key recipe choices to whip up the perfect chowder to their liking, including:

Base – the foundation of a wholesome chowder, choose from a classic white creamy base, a savory red, or a new Cajun-style brown roux.
Protein – pick from more than 20 hearty add-ins, including a wide range of seafood favorites such as crab, lobster, cod, clams and klams (an Ivar's original creation of non-seafood clam substitute). Plus, each one of these options is offered as a smoked preparation.
Flavorings – this is where the fun really begins. Choose from more than 100 flavor accents, from coconut to capers, bacon to blue cheese, and even wasabi and habanero essence for those who love a little kick.
Nectar Boost – patrons can optionally add in a shot of clam nectar for peak performance, Omega-3 boost or even mix in an espresso shot for extra pick-me up.
3. Once the selection has been input and payment received, the machine goes to work mixing the ingredients behind the scenes in a climate controlled environment. It is then dispensed into a waiting Ivar's bio-degradable chowder cup or bread bowl, if desired.
For those who want to play it safe, Ivar's will also offer pre-programmed options featuring its world famous clam and seafood chowders. The entire mixing and dispensing process takes a mere 19.38 seconds, and patrons can choose from 8 oz., 16 oz., 32 oz. or 48 oz. "Souper Tanker" chowder cups (prices start at $3.99). Ivar's will also install a special "deep sea-soning" bar next to the kiosk, stocked with favorite chowder toppings including parsley, natural Puget Sound sea salt, chives and other delicious condiments.
In addition to tapping the customization trend, Ivar's sleek new blue and grey kiosks will also harness the information age by providing users with easy access to nutritional information. While the chowder is being mixed, a programmed narrator, known as "SeaRee," will relay the nutritional values via built-in speakers.
Taking engagement a splash forward, the kiosk will also include a social media component that allows for sharability. Users will be able to upload their chowder selections directly from the touch screen and share it publically via popular social media platforms.
"We know from our research that consumers like sharing specific details about their lives via social media," commented Abril Pheules, director of Piscine Technology Enterprises, whom Ivar's partnered with to develop the kiosks. "Through Ivar's Chowder Select, people will be able to share their personal food selections instantly through the touch screen, and even create a personal brand name for their specific selection."
The innovative chowder dispensers will debut later this month inside several Puget Sound area Ivar's Seafood Restaurants, and the company also has installation deals underway with several local event venues, stadiums and major office buildings. Consumers wishing to weigh in on the company's new Ivar's Chowder Select can leave commentary on Ivar's Facebook page: http://www.facebook.com/IvarsRestaurants.
About Ivar's
Ivar's Seafood Restaurants began on Seattle's waterfront in 1938. Today, there are 22 Ivar's fast casual Seafood Bars, three walk-up Fish Bars and three full-service restaurants: Ivar's Acres of Clams, Ivar's Salmon House and Ivar's Mukilteo Landing. Ivar's Seafood, Soup and Sauce Company markets and sells its award-winning soups, chowders and sauces both nationally and internationally. The company also operates various regional stadium concessions including Safeco Field, CenturyLink Field, Key Arena and the Comcast Arena at Everett. Learn more at http://www.ivars.com.