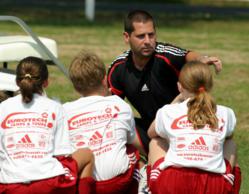 With three sessions and morning to night training, campers will ample time to apply and reinforce everything they learn from our highly regarded trainers
Dallas, Texas (PRWEB) April 04, 2012
Eurotech Soccer World, the premier provider of youth soccer training systems in North America has announced it's Texas soccer camps schedule for 2012.
Eurotech Soccer Academy is excited to build upon it's 4th year of running soccer camps in Texas. University of Texas is conveniently located in Arlington, Texas right in the middle of the Dallas-Fort Worth metroplex and within close driving distance from most suburbs. "This fast growing and beautiful campus is the perfect campus for Eurotech with excellent athletic facilities, incredible air-conditioned dorms and the dining center which is a hundred yards from the dorms!" Said Jim Risher National Director of Eurotech Soccer World. UTA does not yet boast an NCAA soccer team but they do have excellent athletic programs at the NCAA Division II level.
Eurotech's Dallas Soccer Camps 2012 schedule is as follows:
The Dallas/Fort Worth area Eurotech Soccer Camps will be held at UTA from July 15, 2012 to July 21, 2012 and will offer 3 sessions, including 2 combo sessions. Eurotech's girls and boys soccer camps have something for every position from Striker to Goalkeeper. Eurotech sessions at Dallas, Texas will include a Goalkeeper Academy, a Striker School, and sessions focusing on individual techniques and tactics. "With three sessions and morning to night training, campers will ample time to apply and reinforce everything they learn from our highly regarded trainers". said Jim Risher National Director, Eurotech Soccer World.
In 2012 Eurotech Soccer World will also offer several discounts for a limited time only including an Early Camper discount of $25, a Returning Camper discount of $25 and a Family Camper discount of $50.
About Eurotech Soccer
Eurotech Soccer has built its' program around a European training philosophy starting with the finest International youth soccer coaches. Eurotech Soccer coaches include national, collegiate and international directors and include national team, Olympic, college, professional coaches and players from some of the finest International clubs and leagues in the world.