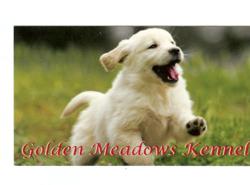 It was a long process and I had to wait for their response, but in the end I was accepted and I'm proud of what I've accomplished with my work at Golden Meadows
Moorpark, CA (PRWEB) April 02, 2012
Golden Meadows Kennel is proud to belong to The International Association of Canine Professionals and it is all thanks to Barbara Hoke who has been breeding healthy and happy Golden Retrievers for over 20 years. Barbara Hoke is also the person who introduced Golden Meadows' training program.
Thanks to Barbara Hoke's work and dedication to the proper care and comfort of her Golden Retrievers and Vizslas she was awarded with Professional membership into an organization committed to develop professional recognition, communication, education, understanding and co-operation across the wide diversity of canine expertise and knowledge The International Association of Canine Professionals seek to recognize professional occupations involved with any aspect of canine management, health, training and husbandry that maintains the high standards of professional and business practice. The procedure for becoming a member is outlined on their website at http://www.canineprofessionals.com/Home
"It was a long process and I had to wait for their response, but in the end I was accepted and I'm proud of what I've accomplished with my work at Golden Meadows." ~ Barbara Hoke, Owner of Golden Meadows Kennel
Golden Meadows Kennel is a top flight Golden Retriever and Vizsla breeding and training facility with a number of Golden Retrievers that have become working therapy & service dogs. They show their dogs in both AKC and IABCA conformation shows, and have been breeding top quality Golden Retriever puppies for over 20 years and Vizslas for over 6. All of their Dogs come from excellent pedigrees with champion lines, sweet temperaments and great looks. They also have imported several English Cream or British White Golden Retrievers from Europe.
All of their Golden Retriever and Vizsla puppies are surrounded by attention & love from day one, socializing their pups from birth to help ensure the sweetest addition to your family. Golden Meadows Kennel specializes in matching the right puppy to your home, and professional training is available for any Golden Retriever or Vizsla puppy.
They are located in Southern California, in Central Ventura County. We are about a 1 hour drive from most of Los Angeles County & Orange County, and 45 minutes from Santa Barbara.
Sources:
Hoke, Barbara. Personal Interview. 15 March 2012.
Durbin, Alicia. "IACP." E-mail Announcement. 23 March 2012