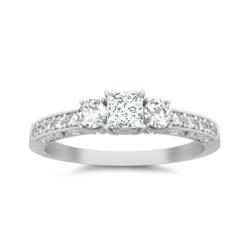 Princess cut three stone engagement rings are main sellers in our 3 stone diamond rings collection.
Cockeysville, MD (PRWEB) April 01, 2012
Online Jewelry Store Retailer, JewelOcean.com has announced a new collection of completely redesigned three stone engagement rings on its website. JewelOcean, the online discount jewelry retailer saw a rapid sales growth of diamond rings in 2011 and the latest three stone engagement rings collection on the website is an extension of the same.
Three Stone Engagement Rings, also known as three stone diamond rings, is a symbolism of love in form of Jewelry, where each of the 3 stones in the engagement rings is to represent past, present and future, or the commitment of the undying love that the couple share with each other. The 3 stone engagement rings grew in popularity during the 1950's when couples were trying to find a new way to express their love and commitment for each other through engagement rings. The trilogy diamond engagement rings have been in fashion ever since.
The most popular style of three stone engagement rings is the princess cut collection, as featured on JewelOcean, where customers can find affordable 3 stone princess cut diamond engagement rings starting from only $299 for a ¼ carat total weight to $899 for 1 carat total weight. "Princess cut 3 stone rings are main sellers in our diamond rings collection," says Mathew Bruno, manager at JewelOcean.com.
Those looking for the classic designs in engagement rings would also find themselves attracted by the three stone Round cut engagement rings featured on the online jewelry retailer, JewelOcean.com website. The Round cut diamond rings are more traditional trilogy rings as they are more popular in 1950's onwards.
As always customers can select their choice of center diamond carat weight from ¼ carat onwards to 1 carat center diamond, and also upgrade the center diamond to Gia certified diamonds at very affordable prices, if they prefer to do so. The customers can also choose the Gold on their three stone diamond rings, with the more popular options being 10k white gold, 14k white gold and 18k white gold rings.
JewelOcean.com is a leading online jewelry retailer, specializing in retailing diamond engagement rings at affordable and cheap prices. All purchases on the website come with guarantee certificate, with refund policy and lifetime warranty options. Customers interested in looking at the three stone engagement rings should visit JewelOcean.com on http://www.jewelocean.com/three-stone-engagement-rings.php.