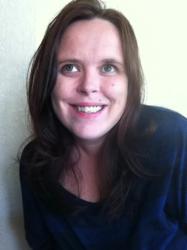 I woke up one morning, and heard our song, 'Shark', playing on the radio, it was a very surreal moment.
Birmingham, England (PRWEB UK) 18 April 2012
When Sarah Eaglesfield received a grant from the Chilean Government to establish her own travel website last November, she packed her suitcase and moved from Sutton Coldfield to Santiago. Quickly discovering that the Latin American tourism trade was still in its infancy, she put together a new business plan, and six months later she's an unexpected rock star, running her own record label.
"I wanted to find a way for European artists to be able to break into Latin America without having to become successful in the USA beforehand," she explained. "Luckily, the people who administer the grant also saw the opportunity and gave their full support to Suddenvibe records."
Eaglesfield had always been closely involved with the music industry. At the age of 13 she established the Birmingham based music fanzine, Waxstreet Dive. She was working as a promoter and management assistant for Midlands based bands, including The Wonder Stuff, before taking her GCSEs. She spent most of her 20s acting as webmaster on the official Duran Duran website, and went on to set up side businesses with band members Andy Taylor and Warren Cuccurullo. Her own band, Flightside, achieved cult status whilst she was a student at Brunel University by distributing their music freely on the internet in the early 90s, long before most people had home access.
"I looked at the calendar one day and realised it had been exactly 20 years since we got Flightside together. I thought maybe it would be fun to record a few tracks. It was an exercise in test-marketing more than anything else, I wanted to do the absolute best for the other bands I'd signed to the label, but I didn't mind messing up and making mistakes with my own band."
Eaglesfield sent demo copies of the Flightside song, 'Shark', to radio stations across Chile, and received an overwhelmingly positive response.
"There had been no real contact between these smaller stations in Latin America and independent music providers from Europe before, they lapped it up. I woke up one morning, and heard our song, 'Shark' playing on the radio, it was a very surreal moment."
The Flightside track, 'Shark', is due for release on 7th May, and now available for pre-sale on iTunes. The video, which was recorded with a $0 budget, can be viewed on YouTube.
"It's been a real domino effect. The song is getting airplay all over the world now. I'll always be a business woman first and foremost, but it is pretty cool to be having a rock star moment, it's a mix between having a mid-life crisis and being a teenager all over again!"
Other artists on the Suddenvibe label include Birmingham-based indie band, 51 Breaks, who will be releasing their 'Hindenburg EP' on 23rd April.
"I knew the guys in 51 Breaks before they went to university, that's about 7 years ago now. They've worked really hard to get to the level they're at today. I am so grateful for being given this opportunity to promote local talent on an international basis."
The Swedish synth band, Slagsmålsklubben, are also represented by the label. Their album, 'The Garage', was released on 11th April, and they will be appearing at Bestival this year.
"Slagsmålsklubben are really popular in Europe, and now we are aiming to raise their profile in Latin America and the UK. They're very unique and very talented, and it's very exciting to be able to work with them."
Sarah qualified for the £30,000 non-equity grant through the Start-Up Chile scheme run by the Chilean Government. Winners of the award are granted a one-year work visa, accommodation and travel costs, office space, and help with establishing their business.