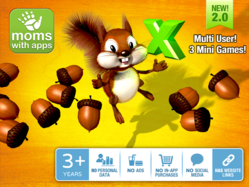 Update! We are loving the update! The multiple quiz modes, games to unlock and review features are awesome additions. This is a great way for kids to work on memorizing their multiplication tables. My kids LOVE Multiplying Acorns!
Stabekk, Norway (PRWEB) April 11, 2012
Multiplying Acorns HD is a fun and engaging way to learn multiplication. It provides real-life manipulatives for hands-on learning to help your child memorize their times tables.
The innovative reward system is designed to reinforce learned concepts and to keep the student motivated. Tokens earned provide the child with access to 3 fun mini-games which keeps them actively engaged.
Multiplying Acorns HD 1.0 (previous version) won 3rd place in the 2011 BestAppEverAwards - Best Middle School Student App
What's New in Version 2.0

3 different Quiz modes
Unlock 3 fun Mini Games in the "Winter Food Storage Factory"
Improve Eye Hand Coordination, Action Timing and Problem Solving by playing the mini games
Tokens earned provide the child with access to 3 fun mini-games which keeps them actively engaged
Beautiful new 3D User menu with interactive squirrels
Detailed statistics on all answers showing number of correct and incorrect answers
See graph of accuracy on every 25 earned gold coins up to 300
Select to practice on the unsolved math problems
Removed external links from user menu
Added Press&Hold security to open app Settings
New Settings Presets for 5 skill levels
Easy Counting Option: Inserted acorns will hover a bit. Count speak when cracking acorns manually
Double Game Speed Option
Apps in the Tasty Math Facts series:
Adding Apples HD
Subtracting Sardines HD
Multiplying Acorns HD
iOS 5 compatible
iPad and Mac
Recommended Ages: 4-7, 8-10, 11-12, parents
About us:
We are a husband and wife team and a member of Moms With Apps, a collaborative group of family-friendly developers seeking to promote quality apps for kids and families.
We are a big family with four kids at ages, 3, 5, 8 and 10 that are our main inspiration for app ideas. It is very effective for the development to see how they interpret, interacts and uses the different apps that we create.