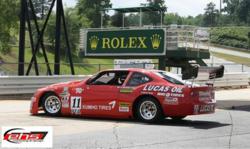 I think people could relate to this experience ... we want them to really be a part of our team.
Nazareth, PA (PRWEB) April 03, 2012
Onderko Motorsports has found an special way to get the fan involved in their racing program. Michael Onderko, Team Owner commented on the new way the team is looking to include and increase its fan base while providing ways for the fan to get an inside look into the Onderko Motorsports organization.
"I found the Peerbackers website review in the Wall Street Journal and after reading the article I quickly realized this is a concept we could use. This would be a prime way for us to increase our fan base and give the fan a unique look into our organization. If we could offer a tangible "reward", for a reasonable contribution so anyone could experience what it's like to be involved with a professional race team, I really believe it would catch on. We have a following in the European community and since this is internet based anyone in the world could be a member of our team."
The team will use video to provide the experience of what it takes to get a car ready to race, what it is like to belt into a racecar and various views the driver has during the race. The team will also bring their cameras along during their Race Against Drugs appearances to let the fan see the impact the Race Against Drugs program has on the nation's youth as well as parents.
Onderko Motorsports will also use real-time personal twitter reports to keep the fan involved with race day events. According to Onderko, the goal is get the fan to feel the butterflies in their stomachs when they hear "… gentlemen start your engines" and the elation felt in victory circle through interviews and personal interactions with team members.
Justin Onderko, driver for the team added, "I think people could relate to this experience. In talking to fans they seem to want the inside story. Since the fan pays our salaries, we want to be tuned into what they want. We want to form a relationship with the fan; we want to give them something more than just watching a car go around a race track. We want them to really be a part of our team."
The team is looking at using this new found venue and the newly formed relationships it created to let the fan decide what they want to see. We think this could be a new twist on fan driven reality TV.
For more information on the opportunity for fans to support the teams Race Against Drugs efforts while getting an inside look into the Onderko Motorsports organization go to "Join a Professional Motorsports Race Team"
Check out Justin's blog "Against The Grain". Through this blog Justin provides the reader an inside look at his road to becoming a professional race driver, what it cost him, what he learned and would he do it all over again. He also lets the reader peek inside his personal life with his beautiful wife Marisa.
For more information on Justin Onderko and the Onderko Motorsports Race Team visit JustinOnderko.com or you can email the team at onderko_motorsports(at)verizon(dot)net