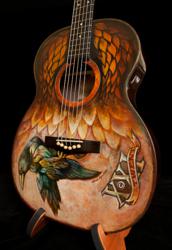 LEAF is an amazing organization and one we are very proud to support through the annual guitar raffle. - Jay Lichty
Tryon, NC (PRWEB) April 02, 2012
LEAF is an organization established to build community and enrich lives through the arts and music, both in North Carolina and internationally. Given the tremendous success of the first Lichty guitar raffle in 2010, Lichty decided to make this donation an annual tradition. "LEAF is thrilled with the amount of money raised through the annual guitar raffle and with the generosity of both the Lichty and LEAF communities," the LEAF staff.
The 2012 Lichty raffle guitar was crafted by custom guitar builder Jay Lichty in his Tryon, North Carolina shop. Every guitar Jay builds is a one-of-a-kind and yet what makes this instrument even more unique is the original artwork hand painted on the soundboard by acclaimed Raleigh, North Carolina artist, Clark Hipolito. Luthier and artist first worked together when Mike Gossin, of top country band Gloriana, commissioned a guitar to be built by Jay with custom artwork by Clark. The guitar exceeded all expectations and led to further collaborations. "My Lichty guitar is absolutely incredible! It feels beautiful to play and sounds so balanced, so phenomenal. Honestly it is the coolest guitar I have ever seen or played," Mike Gossin.
This year's guitar raffle features an Indian rosewood OM-style guitar with an Engelmann spruce top. It has been featured in art exhibits that include the Birds of a Feather Art Exhibit in Wilmington, NC and at the World of Music Exhibit at the Art Trail Gallery in Florence, SC. Retail value: $5,000. Japanese guitarist Shohei Toyoda showcases the raffle guitar on this video: Lichty Guitars' Performing Artist Series
Raffle tickets are $10 each and may be purchased online at http://leafticketsales.org (all online sales include a $5.99 processing fee) or via phone at (828) 686-8742. Total sales are limited to 500 and the winning ticket will be drawn at the fall 2012 Lake Eden Arts Festival on October 21st (or sooner once all tickets have sold). The winner does not have to be present. 100% of the proceeds from the raffle go towards music and arts programs for youth locally and globally.
Handcrafted and built-to-order by North Carolina luthier Jay Lichty, Lichty Guitars combine the highest quality materials with premium exotic and domestic tonewoods for heirloom quality custom-crafted acoustic guitars and ukuleles. Lichty single-handedly builds each of the 30 instruments he produces a year - creating award-winning works of art played and praised by professional musicians from Japan to Nashville. For more information visit http://www.lichtyguitars.com.