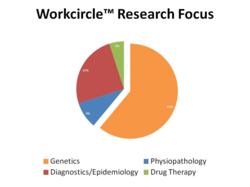 Our analysis clearly identifies the individuals and organizations best positioned to lead, or contribute to, specific autism efforts.
Orange, CA (PRWEB) April 03, 2012
Lnx Research today released findings from its comprehensive analysis of the Autism Spectrum Disorder (ASD) research community. The findings provide a detailed roadmap to the activities of the nearly 13,000 researchers involved in the global autism community.
The Lnx study follows the recent release of US CDC data showing a continuing autism epidemic with one in 88 children now diagnosed with ASD by age 8, a 23% rise over a two-year period. With the cost of the disease already estimated at $126 billion per year, and few treatment options available, research is critical.
The Lnx study shows that the autism community is very small, nearly 13,000 researchers, compared to over 100,000 in diseases such as HIV and Type 2 Diabetes, two of over 75 diseases also mapped by Lnx. "The collaboration structures are similar to a more mature community, so the small size of the autism community may simply reflect a lack of funding," says Philip Topham, Lnx General Manager. "Autism received only $168 million in funding in 2011, compared to cardiovascular disease which received $1.2 billion. With the disease already affecting more than 1% of our population, this has to be addressed. Whatever the future funding is, we hope our analysis will help direct that money for maximum benefit."
The Lnx study specifically identifies 149 community leaders who form an "Invisible College" that drives community thinking and directions. These leaders have relationships with 49% of the entire community and they and their direct associates produce 82% of all published research. The study also identifies and details 20 major collaboration groups--"Workcircles"--and their activities. The pattern revealed in the analysis is consistent with the grim picture painted by the CDC: 11 of the 20 Workcircles are involved in genetics, five are focused on diagnostics, while only one is working on treatment. The Lnx study also identifies 20 global centers of autism excellence based on their research productivity, not on their funding (a metric often used by federal agencies such as NIH).
"Our analysis is intended to be actionable and drive strategy and investment decisions. It clearly identifies the individuals and organizations best positioned to lead, or contribute to, specific autism efforts and we hope it will be a useful tool for public health agencies, pharmaceutical manufacturers and others as they mobilize to address this catastrophic health issue," says Topham. "Success depends on fostering effective global collaborations and research partnerships across the community and, as in any situation dealing with autism, knowledge is power."
About Lnx Research
Located in Orange, California, Lnx Research LLC is a privately owned company created in 2005 to apply social network analytics to problems in knowledge creation and dissemination. Lnx is a member of the xIQ Group, a family of innovative information service companies.
Lnx Research is passionate about providing the best solutions to help pharmaceutical and biotechnology companies build KOL strategies that save time, money and provide great value while being fully compliant with regulations.
Lnx Research provides an insightful, objective, highly reliable and accurate suite of products using social network analytics. Lnx's Invisible College™ and Workcircle™ products include community mapping, center of excellence mapping, KOL identification, profiling services and more.
Lnx Research is the leader in mapping scientific communities and the Lnx process is rapidly being adopted as Best Practice by global life science companies including Top 5 pharmaceutical manufacturers. To date Lnx Research has completed projects across 75 different disease areas.