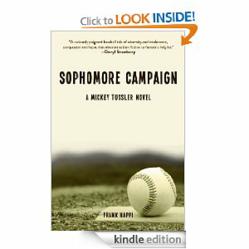 "The story hopefully fosters understanding, tolerance, compassion, and ultimately acceptance."
Massapequa, NY (PRWEB) April 01, 2012
With the start of the baseball season and Autism Awareness Month coinciding, it is the perfect time to read a book that uses the game as the backdrop for a coming of age story, starring an autistic young man. "Sophomore Campaign," from Skyhorse Publishing Inc. is the eagerly awaited sequel to author Frank Nappi's "The Legend of Mickey Tussler." Set in the 1940s "Sophomore Campaign" continues to chronicle the struggles of a young pitching phenom with autism who is trying to make it in the minor leagues. Mickey once again faces the grim and harsh realities of life that threaten to interfere with the pursuit of his dream. In the sequel Nappi also grapples with extreme racism in a small Milwaukee suburb after an African American player joins the Brewers minor-league affiliate.
Nappi deals with difficult themes in his book – hatred, cruelty, and loss – but does so with a humanistic realism that resonates. "This is a story that celebrates resiliency in the face of adversity," the author said. "The story hopefully fosters understanding, tolerance, compassion, and ultimately acceptance."
The author's work with special needs students over the years enabled him to create his endearing protagonist. Nappi's portrayal of autism has been credited with being honest and accurate. "The Legend of Mickey Tussler speaks powerfully, brilliantly to anyone who...loves a special person who is dealing with the rigors and challenges related to autism," noted a spokesperson for Autism Speaks the nation's largest autism advocacy organization.
"This series is a deeply complex look into the plight of the underdog, and a sobering reminder that everywhere we turn, and perhaps where we least expect it, there exists diamonds in the rough. All we need to do is look," said Nappi.
The "Mickey Tussler" series will capture the hearts and imaginations of readers everywhere. 'Sophomore Campaign" is must-read book with appeal for casual baseball fans as well as diehard fans, people touched by individuals with special needs, and anyone who can appreciate incredible writing and a compelling plot. This is a book that should be celebrated, shared, and talked about - again and again.
Frank Nappi has taught high school English and Creative Writing for over twenty years. His debut novel, Echoes from the Infantry, received national attention, including MWSA's silver medal for outstanding fiction for 2006. His follow-up novel, The Legend of Mickey Tussler, garnered rave reviews as well, including a screenplay adaptation of the touching story which aired nationwide as the film "A Mile in His Shoes" in September 2011. The film starred Dean Cain and Luke Schroder and is now available on DVD. Nappi lives on Long Island with his wife Julia and their two sons, Nicholas and Anthony.