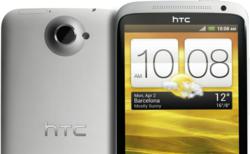 The HTC One X is one of the most anticipated phones from Mobile World Congress, and Expansys.com is delighted to have it
Marlow, Bucks, UK (PRWEB UK) 5 April 2012
The HTC One X phone has been officially released today and is available now on Expansys.com, the leading online technology superstore. Announced to the public at Mobile World Congress in February, the One X is the Taiwanese manufacturer's first smartphone release of 2012.
The One X heralds the arrival of HTC's new One series of handsets, which the phone giant hopes will set the Android smartphone standard over the coming months. The most premium of the new range, Expansys.com believes the One X's use of many of the mobile phone industry's latest technologies will appeal to a broad range of customers.
HTC have made the One X their first phone with a quad-core processor, which has become the latest benchmark in mobile technology. Ice Cream Sandwich, the latest iteration of Google's highly popular Android software is also included, and the One X is one of the first phones to market with both these qualities. Physically the One X is the first phone from HTC to be made from polycarbonate which marks a departure from the company's usual metal chassis. And the One X features a 4.7 inch screen and headphones and audio settings by the popular Beats Audio brand which HTC invested in last year.
"Our customers have been hugely excited by the prospect of HTC's One X phone, as have all the staff who saw it at MWC" commented Julian Neal, Chief Marketing Officer for Expansys. "It's been the most pre-ordered item in our range so far this year, and we're delighted to have it in stock. We expect it to prove a big hit for HTC." he added.
As one of the most exciting prospects from Mobile World Congress, the industry's most important trade show, the phone is an important, and hotly anticipated, addition to the shelves at Expansys.com. The HTC One X can be ordered now, complete with a free Krussell screen protector included in the price plus free delivery to the UK and Ireland.
Editor's notes:
About Expansys.com:
Expansys is the only truly global online retailer for consumer mobile technology, and wants to become the preferred choice for customers worldwide. Believing that technology can change your life, Expansys' teams discover, review and sell the latest and hottest products, such as phones, tablets and laptops, from all the world's leading technology manufacturers across 60 international sites in 16 languages.