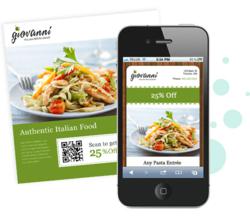 QR Code coupons can be instantly shared via email and social networks, multiplying the company's exposure.
Toronto, Ontario (PRWEB) April 02, 2012
Sitomic launches quick and affordable solutions for small businesses to build mobile-optimized coupons and run QR Code campaigns. Businesses can create stunning mobile coupons in a matter of minutes, download print-quality QR Codes, and track visitors across multiple advertisements.
Consumers can retrieve QR Code coupons immediately upon seeing an ad. All it takes is a simple scan with a smartphone. Sitomic mobile coupons are accessible on any smartphone device without the need to download a couponing app. Mobile coupons can be instantly shared via email, social media, or even text messaging. If the deal is exciting enough, it can spread virally through mobile and social channels, multiplying the company's exposure.
What Sitomic offers to businesses is a set of online tools for setting up and running a QR Code coupon campaign.
First tool is the coupon builder. It features a library of professional mobile-optimized templates, which can be customized with company's own logo, text, and promotional image. Coupons are quick to set up and can be updated at any time.
Second tool is the QR Code and URL Manager. This component allows companies to generate print-quality QR Codes for their coupons and launch custom QR Code tracking campaigns. A custom tracking campaign allows businesses to generate unique URLs and QR Codes for each type of advertisement and track them separately. Businesses are then able to compare the performance of their ads against one another.
To get started with Sitomic, companies need to provide only a valid email address. QR Code coupons can be run for as little as one month and terminated until needed again. Every coupon project begins with a 7-day free trial and does not require any credit card information to launch.
ABOUT SITOMIC
Sitomic.com is a Mobile Marketing Platform that allows small businesses to create and manage engaging QR Code campaigns easily and affordably. With a friendly user interface and easy-to-use tools, Sitomic is a perfect solution for anyone regardless of their design knowledge and computer skills.