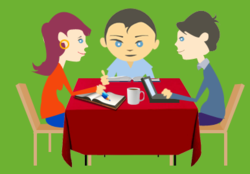 Continuing education courses typically increase the number of opportunities available for career advancement
Pittsburgh, PA (PRWEB) April 01, 2012
Hurdling tasks, assignments and other to-do's in school or outside of work is not easy. More often than not, studying becomes a bore – especially when the lessons are not clear, or are simply too difficult to grasp. Taking in all of the information can be overwhelming, and knowing how to prepare for a test can be tough. Owing to these realities, many students choose to have someone to discuss and talk with to keep them focused. The principles of motivation, goal-sharing and exchange of ideas are the reasons why a study partner is a must for most people.
MyStudyPartner.com is a new platform where individuals can search for, and find people with similar goals in their school, city or across the world to study effectively with – for free. Explaining how it works, the website details that students and continuing education professionals can meet with a study partner at a local coffee shop, library or online without having to pay anything. The service helps anyone find the help they need in order to fully understand class lessons or assistance before an exam.
MyStudyPartner.com caters to individuals who are trying to pass college admission exams including GMAT, SAT, GRE, ACT, LSAT, TOEFL, MCAT, IELTS, USMLE, SAT - SUBJECT and PLAB.
It also helps professionals aiming to excel in Microsoft, CISCO, CPA, PMP, ITIL, CompTIA, IIBA and Red Hat Certifications. Studies show that professionals who obtain additional certification or continuing education courses typically increase the number of opportunities available for career advancement.
MyStudyPartner.com underscores that career certification could boost the chances of getting a job or promotion. In this tough economy, a good study partner might cut down the need and cost of expensive training to obtain a certification and provide the much needed motivation.
Using MyStudyPartner.com, study partners can be found locally or globally by simply inputting the exam or certification name and location. Search results can be refined using different criteria to narrow down the search effectively. Moreover, the website is very user friendly, simple and intuitive, and allows members to instantly connect using their Facebook, Google or Yahoo account.
People seeking someone who knows how they feel, and believes in the importance of achieving their goals in their studies and career should visit http://www.mystudypartner.com to find someone to motivate and share talents with – for free.