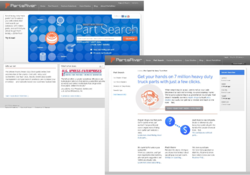 "Connector Branding played a critical role in the brand development and launch of our new Part Search product. From strategy through web design and implementation, their contribution was invaluable," states Sherif Danish, CEO of PartsRiver
(PRWEB) April 02, 2012
When PartsRiver, a leading provider of data quality management tools to the heavy duty truck parts industry, was ready to introduce their new Part Search application which enables buyers to find parts and local sellers, they turned to Connector Branding to create their entire brand experience.
"Heavy duty truck parts buyers are like detectives," says Dave Studeman, Connector Branding's founder and President. "They piece together clues to identify a part – portions of serial numbers, photos of greasy parts, old catalogues, mechanic's descriptions, etc. and then search to find that part nearby to get a truck back on the road."
Connector Branding's challenge was to create a brand that quickly communicates to buyers that Part Search would make their jobs easier and then develop the user experience of the application to deliver on that promise. To achieve that goal, a comprehensive branding strategy and brand architecture were first developed. Next, Connector Branding created a compelling web design and built out the website, blog and Part Search user interface on a WordPress platform. The entire site was then turned over to PartsRiver's internal development team to adapt it to a custom platform based on a Zend CMS Framework. Connector Branding prepared for the brand launch by extending the basic Look and Feel of the site to sales materials, tradeshow booth, and print/online advertising.
Connector Branding worked closely with social media partner, Roaring Pajamas to create appropriate graphics for PartsRiver's new Facebook and Twitter sites. "We were surprised to find that truckers now use Facebook and speech recognition software to communicate.Truckers even hold their own social media convention!" says Studeman.
"Connector Branding played a critical role in the brand development and launch of our new Part Search product. From strategy through web design and implementation, their contribution was invaluable," states Sherif Danish, CEO of PartsRiver.
What is the end benefit to PartsRiver? Branding development that connects them with the heavy duty truck parts buyers, unites each brand touch point in the most powerful manner and truly engages their target customer to drive loyalty and sales.
To find out more about Connector Branding, contact Dave Studeman at 925-899-1473 or visit http://www.connectorbranding.com.