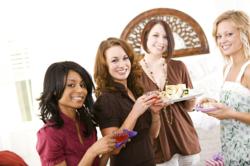 I thought, if I was having such a great time doing
all of these things while making money, wouldn't other
women want to as well?
Raymond, NH (PRWEB) April 02, 2012
Intimate Details, a New Hampshire-based home party company that offers adult toys, lingerie and novelties, is looking for new consultants as it nears its third year in business. The new home party company continues to grow rapidly, expanding into new areas while supporting more and more clients in their existing territory. The need for new consultants interested in this ground-floor home business opportunity has never been greater for Intimate Details.
"Every week, we have more party requests and we are keeping up with the demand but in order to grow, we need to have more consultants," says Angela Desrochers, founder of Intimate Details. "We are ready to expand rapidly, and we have introduced new plans for consultants who want to get in on this ground floor opportunity."
Intimate Details has plans to expand their online advertising base, strategically targeting ads to emerging territories. The company is offering to freely give party leads to new consultants in the territories they expand into. "If there is no one else in your territory, and you're in good standing, the party is yours," says Desrochers. "We want you to succeed right away."
In addition to targeting marketing done for the consultants, Intimate Details also offers new consultants the following:
● Get paid the night of the party – consultants carry their own inventory. With greater ability to control their own business, there is more flexibility for each consultant to offer free gifts, incentives and discounts to help grow their customer base at a speed that's comfortable for them.
● Ground floor incentives – right now, new consultants can take advantage of various programs intended to 'fast track' them through the first few months of their business. From increased buying discounts to additional free product, each consultant has the opportunity to jump-start their new business.
● Free training - if Intimate Details has a consultant in your area, you can participate in one-on-one and "tag-along" party training. In addition, you will receive product and party education directly from Angela Desrochers, founder of Intimate Details, via online video, webinars and video-conferences.
"We're continuing our focus on providing a classy, comfortable and educational experience," said Desrochers. "The previous taboo subject of sex toys is becoming a more acceptable one, and it's our mission to introduce woman and men to the ways our product lines can enhance their relationships and their sex lives. We do it in a fun, relaxing and discreet atmosphere where everyone is comfortable."
For more information about becoming a consultant or hosting a party, contact Intimate Details at 347-878-0273 or careers(at)intimatedetailsparties(dot)com.
Intimate Details is a home party company that offers adult toys and novelties as well as a fun and fulfilling business opportunity. Angela Desrochers founded Intimate Details in 2008 with a mission to offer quality adult products and education through in-home parties that provide a fun and relaxing atmosphere for women. http://www.intimatedetailsparties.com