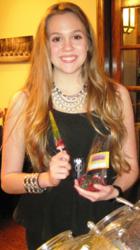 We love working with the Hollywood community because we get immediate, and positive, feedback on the products.
Newport Coast, CA (PRWEB) April 03, 2012
Chelsey Bryson, an actor who plays Heather in the popular Disney television series Kickin' It celebrated her 16th birthday last Saturday, March 24th at a private residence in Toluca Lake, CA with a star-studded event. Leaf Brands®, LLC products, which debuted its long-anticipated Astro Pops® lollipops to the high-profile teen guests, provided the candy and soft drinks.
Approximately 100 guests were in attendance including Brothers and Sisters star Garrett Backstrom, actress Leah Lewis, YouTube sensation Devin Fox, Big Time Rush actress Danielle Bessler, Man of Steel actor Dylan Sprayberry, and youngest Jonas brother, Frankie Jonas. DJ Young Slade, the son of Lil Jon, one of the biggest crunk Celebrity DJs in the world, provided the tunes for the party. Although still a teen, DJ Young Slade is already making waves as a talented young DJ.
According to Leaf Brands® CEO Ellia Kassoff, "We were really excited to debut Astro Pops® at Chelsey's birthday party. We've been to many of these events and have gotten to know a lot of the actors who have already expressed their love for Farts Candy® and Astro Pops® sodas. Leaf Brand's products have become a favorite, among the teen celebrity set."
Leaf Brand's® candy products have become celebrity favorites since their presence has been fairly regular at recent celebrity events including one at last year's Emmys and Teen Choice Awards. Emmy-award winning Modern Family actors Nolan Gould, Rico Rodriguez, Aubrey Anderson-Emmons, and Ariel Winter love both Farts Candy® and Astro Pops® sodas. As a consequence, the Leaf candy products have become highly requested at private celebrity parties.
"We love working with the Hollywood community because we get immediate, and positive, feedback on the products," says Kassoff. "Plus, it's so great to meet celebrity icons such as Scott Baio, Erik Estrada, Ben Vereen, and Jackie Zeman at these events, and sharing with them the output of our hard work."
Astro Pops® were already known as the longest lasting lollipop on earth when the previous manufacturer, Spangler Candy, discontinued the product line in 2004. Leaf Brands®, LLC is re-launching the iconic rocket pop and will begin shipping orders in June 2012.
Farts Candy® are flavorful chewy candy nuggets in all kinds of fruity flavors that are so fun they'll make you laugh!™ Available in 1.75 ounce individual packs as well as in bulk, Farts Candy is available in select retail stores in December and comes in 16 flavors including a Fruiti Farts assortment, Sour Farts assortment, and individual flavors such as Pina Colada, Sour Watermelon, Sour Apple, Root Beer, Grape, Strawberry, Blue Raspberry, Black Cherry, Tangerine, and Lemonade.
Astro Pops® sodas are available in the three original flavors of the iconic lollipop: Pineapple, Passion Fruit and Cherry. The real fun is mixing all three flavors together, creating your own Astro Pop®! Suggested retail price is $1.99 for a 12 oz. bottle and is currently available at RocketFizz stores and other retailers throughout the country.
# # #
About Leaf Brands®, LLC:
The original LEAF Brands® were started in the 1920's. LEAF Brands, once the fourth largest candy producer in North America, produced candy classics such as Whoppers®, Jolly Rancher® and Rain Blo Bubblegum®, which were later sold to Hershey Chocolate & Confectionary Corporation in the late 1990's. Family members have acquired the LEAF brand name for the US, and assembled together to revive the Leaf name and its famous image. Products include Astro Pops®, Yummers!™, Farts Candy™ and David's Signature Beyond Gourmet™ products.